Sea of ​​Abkhazia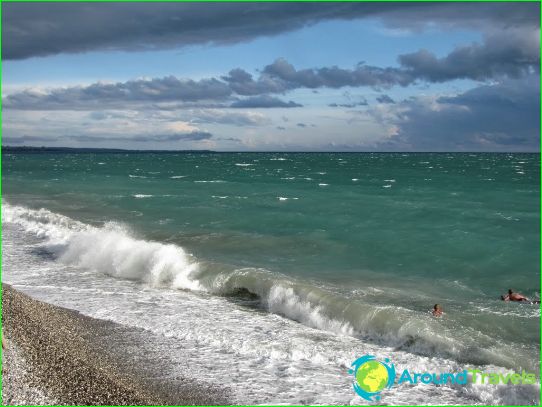 Rest in the Republic of Abkhazia will remind travelers of a respectable age about student holidays in their youth, when a trip to the Black Sea coast of the Caucasus was the height of dreams, and several weeks of carefree swimming flew by like one day. Today, a variety of tourists come here, who are attracted by the sea of ​​Abkhazia, its clean mountain air, ideal climate and reasonable prices for absolutely everything..
To the question of which sea washes Abkhazia, there is the only correct answer - the Black Sea. The republic is located on its northeastern coast on the southern slopes of the Greater Caucasus Mountains. The sea of ​​Abkhazia is more than 200 kilometers of comfortable and clean beaches covered with small pebbles, stretching between the borders of Georgia and Russia.
About weather and nature
On the Abkhaz beaches, sunny weather reigns most of the swimming season. The water temperature in the Black Sea in July-August rises here to +27 degrees. The season ends only in October, when thermometers record that the water has cooled to +18, although some fans «post-velvet season» it doesn't stop.
The nature of Abkhazia and its Black Sea coast makes people who are far from versification into real poets. The majestic ridge of the Greater Caucasus Range and coniferous forests, the purest water and flowering gardens in Gagra, mountain lakes and waterfalls - all this becomes a weighty reason to come to rest in Abkhazia.
What are the seas in Abkhazia?
It would seem that the answer to this question is obvious - the Black Sea. But romantics and gourmets can name at least a few more: a sea of ​​hospitality of local residents, a sea of ​​the best Caucasian wines, a sea of ​​amazing sunsets and just - positive, warmth and great mood.
Interesting Facts

One of the shark species, the Black Sea cartan, lives in the Black Sea. Despite its direct relation to predators, the katran does not pose a danger to humans, and in the entire history of observations, not a single case of an attack has been recorded..
The bottlenose dolphin is another popular representative of the Black Sea fauna. They live in packs and help their fellow tribesmen in case of danger. This instinct allows bottlenose dolphins to save people in trouble at sea..
The famous Black Sea shells of the rapana mollusc are actually strangers among the local fauna. They entered the Black Sea through the Bosphorus in the middle of the last century and destroyed almost all the oysters and scallops..
Abkhazia is the country of the soul
Photos of the coast of Abkhazia