Where to go with children in Gagra?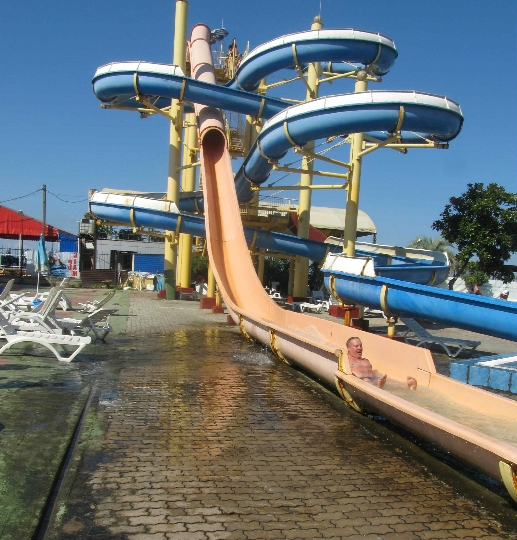 A wonderful resort of Abkhazia - Gagra, perfect for family holidays. This city is known for its magnificent nature, clean beaches and cypresses..
The main attractions of the resort
The legendary colonnade is located in the center of Gagra. It has long become the hallmark of the resort and the country as a whole. This building in the Moorish style was built in the post-war years. The length of the colonnade exceeds 60 m. Then you can get to the alley of the Seaside Park and go to the beach. This is a beautiful place that looks especially picturesque in the evening. Seaside Park is a great place for walking with children. It occupies a huge area, its length is 6 km. In the park you can see exotic plants, ponds, paved paths.
Near the Abkhazian fortress of Abaata is the famous Marlinsky tower, which was built to ensure the security of the garrison. The main attractions of the city include the Gagra Temple, located in the central part of the Abbat's fortress. This building dates back to the 6th century.
An interesting architectural monument is the castle of the Prince of Oldenburg. It was built at the beginning of the 20th century for the royal family. The building is made in the Art Nouveau style and has an original design.
The main cultural monuments are located in the old part of the city. Most tourists stay in Novaya Gagra, from where you can walk or take a minibus to the main attractions.
There are a lot of natural monuments on the territory of the country. Near Gagra there is the Gegsky waterfall, as well as the Mamdzyshkha mountain with a height of 1873 m. From the top, a beautiful view of the surroundings opens. Among the natural attractions, the Zhoekvarskoe gorge deserves attention, along the bottom of which the river flows.
What active entertainment is available to children
The main occupation of holidaymakers is beach vacations. There are no noisy entertainment centers with playrooms for children in Gagra. Therefore, families prefer to engage in outdoor activities..
Recently, a water park was opened at this resort, the only one in the whole of Abkhazia. It has an ideal reputation for being a great family entertainment destination. The institution is notable for its modest size. There are five freshwater pools and two saltwater pools. Various attractions and slides are provided for children. Steep descent for teenagers «Kamikaze» and twisted slides. Short slides with a gentle slope are designed especially for toddlers. Vacationers can have a bite to eat at a restaurant that prepares Abkhaz cuisine.
Photos