Sukhumi - the capital of Abkhazia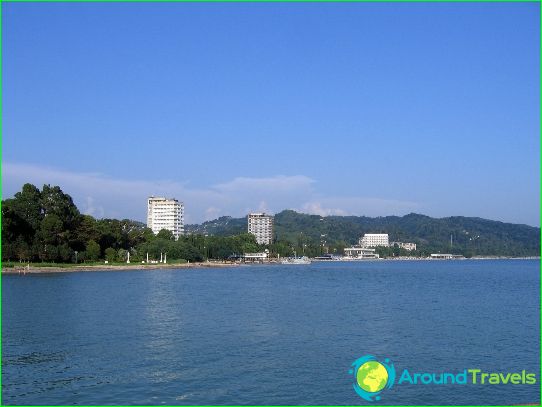 The capital of Abkhazia was founded 2500 years ago. Today Sukhumi is a wonderful place for recreation, which received the status of a resort city..
Botanical Garden
The park was founded in the 19th century by the doctor Bagrinovsky. In this endeavor, he was helped by Lieutenant General N.N. Raevsky. Today the botanical garden of Sukhumi is one of the largest in the entire region. The collection of plants numbers more than five thousand species, and the total planting area is about 30 hectares. The most famous exhibit of the garden is the linden tree, which grew in this place even before it was laid. The tree is over 250 years old. It survived bombing, looting and a hurricane that caused massive damage to the garden..
Makhajirs embankment
This seaside promenade is the most picturesque place in the capital. It was built at the beginning of the 20th century. It is best to start your walk around the city from here..
The embankment of the Maharajirs has an absolutely amazing appearance. Old shipping company, former hotel «Russia», which hosted Sergei Yesenin in 1925, white stone houses with interesting verandas and balconies and Venetian brick mansions - this is the embankment of the capital. Add to this the many restaurants, cafes and hotels for the perfect setting for an evening promenade..
Colonnade
The building is dated 1948 and belongs to the architect Ya. O. Kvaratskhelia. The structure consists of two halves with a single pedestal. The halves of the colonnade, joining together, form an arch through which you get to the famous embankment. The top of the colonnade is decorated with two miniature domes.
The Colonnade of Sukhumi is not just a symbol of the capital. Her neoclassical profile has become a business card for the whole of Abkhazia. The Sukhum colonnade became the prototype for many similar structures that can be found in many resort cities.
Fountain with griffins
It is located in the theater square, near the Samson Chanba theater. The fountain was built in 1947.
The sculptural composition of the fountain is quite interesting. Mythical characters - concrete griffins covered with gilding - release powerful jets of water from their mouths. In the evening, the animals are beautifully illuminated.
Red bridge
The Red Bridge connects the banks of the Basla River, which flows through the capital. It has stood here for about a century, and it got such a beautiful name because of its color - the bridge is traditionally painted red.
The Red Bridge is a vibrant local landmark. The events of the Georgian-Abkhaz war brought him wide recognition. It was he who became the first defensive line during the period of hostilities. The left bank of the river served as the location of the officers' barracks belonging to the Sukhum reserve regiment. Now at this place you will see military sanatoriums.
Photos