Tourism in Abkhazia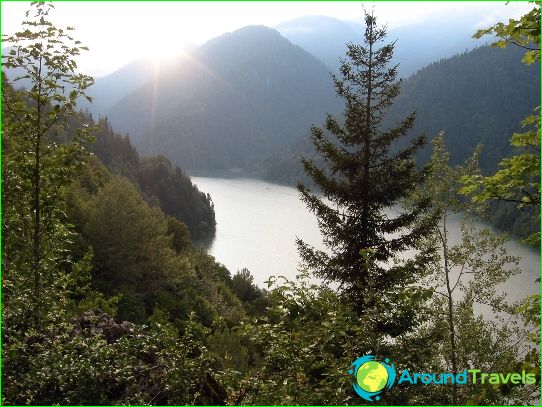 It is difficult for a small state, lost in the mountains of the Caucasus, to compete with its neighbors, Georgia and Armenia, in terms of tourism. The problem is that the sovereignty of the country is recognized by a few countries, and therefore their curious residents are not allowed to enter Abkhazia.
On the other hand, Russia has recognized the country, which means that the number of tourists may be quite sufficient. Thanks to its neighbors, tourism in Abkhazia has every chance of development, especially since many have in their memory the chic resorts of Pitsunda, New Athos, stunning landscapes of mountains and Lake Ritsa.
Travel to antiquity
For many tourists who come to Abkhazia, an important factor is that here you can see the remains of cities built by ancient masters. So, not far from Sukhum there are the ruins of the ancient city of Sebastopolis, near Pitsunda there was a settlement with a similar name Pitiunta, and in the city itself, a 15-century basilica has been preserved. The famous resort of New Athos will give travelers a meeting with the New Athos Monastery and a cave.
Masterpieces of nature
Little Abkhazia can be proud of its incomparable natural landscapes and beautiful views. The mountains are beautiful on their own in any season, but, in addition, the locals will show the famous karst caves, the deepest abyss cave in the world. A trip to the Abkhazian reserves will be no less memorable.
As in the world all roads lead to the capital of Italy, so in Abkhazia every path or road chosen by a tourist will definitely lead to Lake Ritsa. Firstly, it surprises with the color of the water, which can change depending on the temperature and season. Secondly, the lake is good both in itself and surrounded by gloomy rocks and snow-covered mountain peaks.
Pilgrims in history
The preserved ancient churches and monasteries attract not only believing travelers. For any tourist, such objects are interesting from the point of view of architecture, culture, religion..
For many centuries, the New Athos Monastery has been the focus of attention of local residents and visitors from abroad. Once upon a time, the ideas of the first Christians from here diverged around the world, witnesses of those ancient times, Abkhaz temples, the grottoes of the apostles and the Church of the Intercession.
Monuments of ancient history, a beautiful coastline and incomparable mountains, resorts that will provide rest and treatment - this is what it is worth going to Abkhazia for. Locals always warmly welcome guests and are ready to drink for them and together with them not one glass of excellent wine.
Abkhazia is the country of the soul
Photos