Wines of Abkhazia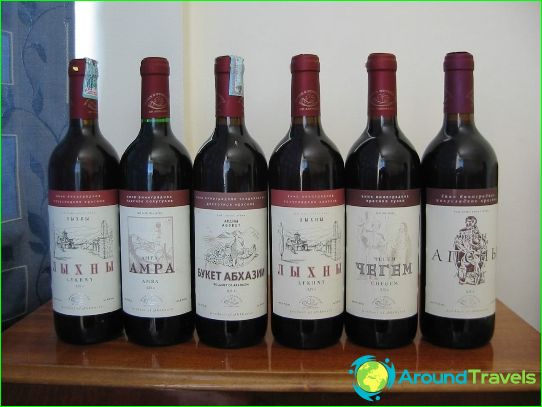 Abkhazia became one of the first regions on the planet that learned the intricacies of winemaking. Archaeologists confirm this version with their valuable finds, indicating that already in the III millennium BC, grape wines were made on the territory of the republic. The products were in demand even in ancient Rome, where semi-sweet wines of Abkhazia were supplied. Then this area was called Dioscuria, and varieties of useful berries have since been bred especially valuable, adapted to the characteristics of ripening in a humid subtropical climate.
Bouquet of taste
Two main varieties of grapes are grown on the territory of the wineries of Abkhazia: Isabella for the production of red wines and white Tsolikouri. One of the best wine industries in the republic is the Sukhumi wine plant, all technologies and processes at which are as close as possible to the historically established traditions of Abkhaz masters..
The most famous Abkhaz wines are famous all over the world:
Red "Bouquet of Abkhazia" was launched into production at the end of the 20s of the last century. Its fruity notes allow you to combine the drink with desserts and sweet dishes..
Lykhny wine is made from Isabella grapes. It has a characteristic taste and a dark ruby ​​hue..
Dry red wine "Chegem" began to be produced a little over ten years ago, but its quality has already been noted by true gourmets in many countries.
The semi-sweet wine of Abkhazia "Apsny" is considered a ladies' one. Pomegranate color and velvety taste are provided by Merlot, Saperavi and Cabernet Sauvignon varieties..
Semi-sweet "Psou" is a classic among white wines. Its more than half a century of popularity is provided by a luxurious blend of Riesling and Aligote varieties..
When Rkatsiteli fruits are added to Riesling berries, Abkhaz winemakers get "Anakopia" - a ladies' drink with a delicate aroma and light aftertaste. However, a strong half of the participants in wine tours to Abkhazia also do not deny themselves the pleasure of tasting this semi-dry white wine.
For beautiful ladies
Abkhazian winemakers quite seriously believe that some of the drinks they produce are more suitable for the beautiful half of humanity. "Women's" wines are sweeter, they have a pleasant berry aroma and lower strength. The secret of the production of such wines of Abkhazia lies in the fact that immediately after the end of the fermentation process, the drink is tightly corked in barrels. This is how wines retain their special bouquet..
Photos