Traditional Argentinean Cuisine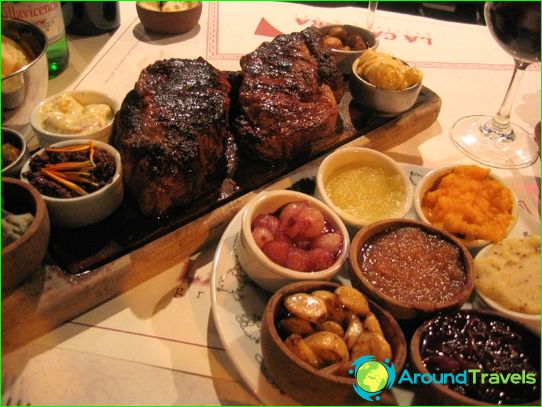 Nutrition in Argentina is characterized by the fact that the quality of food products in the country is at a high level.
Food in Argentina
Argentine cuisine has been influenced by Spanish, Italian, Peruvian, Brazilian, Mexican and Chilean gastronomic traditions. The diet of Argentines contains meat (beef is especially honored among the Argentines), vegetables, fish, legumes, dairy products.
In Argentina, you should try blood sausage (morcilla); pork sausage (chorizo); tripe sausage (chinchulines); sauce based on vinegar, herbs and garlic (chimichurri); pies stuffed with meat, corn and cheese (empanadas); meat stuffed with lamb giblets and fried over charcoal ("carneasado"); Argentine stew of meat, vegetables and beans ("buchero"); vegetable pie ("tartas"); ribs fried over an open fire ("beef de lomo").
And the sweet tooth can enjoy shortbread cookies, fresh and candied fruits, rice pudding, ice cream, fried nuts in sugar, fruit pies, chocolate cake, creamy sweets ("fuse an almibar").
Where to eat in Argentina? At your service:
cafes and restaurants where you can taste Argentinean and various Asian cuisines;
Italian restaurants (here you can order pasta and pizza dishes);
parrillas (in these grill bars you can taste grilled meats and other delicious dishes).
Drinks in Argentina
Popular Argentinian drinks are mate (herbal soft drink), tea, coffee, beer, wine, fernet (40-degree herbal tincture). Beer lovers should try both local (Schneider, Quilmes, Isenbeck) and imported varieties (Heineken, Corona, Warsteiner). As Argentina is famous for its wine-producing province of Mendoza, here you will be able to taste "SanFelipe", "Lopez", "NietoSenetiner", "NovarroCorreas", "Weinert".
Food tour to Argentina
If you take a one-day food tour of Argentina, you will be able to enjoy national Argentinean dishes and practice their cooking skills. Its "tasty" You will begin your journey with a tour of a small bakery - local bakers will prepare Argentinean chimichurri bread (it contains olive oil, garlic, onions, and spices). And your gastronomic excursion will end after visiting the home of one of the famous Argentinean chefs, who will reveal for you the secret of the secret recipe for meat sauce.
In Argentina, you can go fishing or horseback riding, have fun in bars and clubs, walk through the country's protected areas, go rafting or kayaking, and taste local cuisine.
Photos of national dishes of Argentina