Tours to Yerevan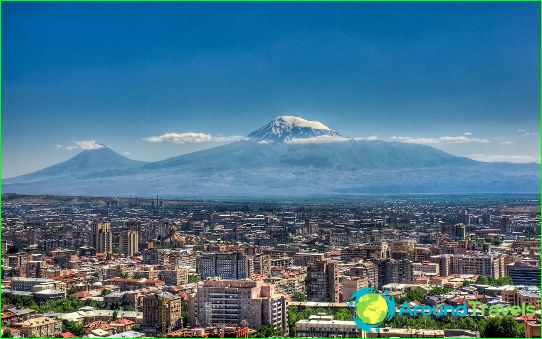 They say that when a plane flies up to Yerevan, it begins to roll to one side. Ararat is so beautiful in the rays of the sun that all the passengers of the airliner fall to the windows on the side of the cabin where the famous mountain is visible. A light cloud always hangs over Ararat, which locals call the souls of those who live far from their sweet homeland, but their hearts are still here, in the vastness of Armenia. For romantics, tours to Yerevan are an outlet in the gray prose of life and a breath of fresh clean mountain air.
Briefly about the important

The capital of the country is served by an international airport and a railway station, and the easiest way to get around the city as part of a tour to Yerevan is by metro.
The best season for a trip to the capital of Armenia is spring and early autumn. the air temperature reaches +20 in these months, precipitation is unlikely, and sunny days allow you to enjoy the beauty without interference.
Located at an altitude of just over a kilometer above sea level, the city can cause some discomfort in the first hours of staying in it. When planning tours to Yerevan, you should take into account the time required for acclimatization.
The richest cellars of the Yerevan Brandy Factory not only store hundreds of liters of the noblest of drinks. There are barrels on which plaques are installed in honor of the memorable events that caused the appearance of this particular brandy. On certain conditions, each participant of the tour to Yerevan can install his own name plate.
At the Matenadaran Institute, on the basis of the Echmiadzin Monastery, there is a valuable collection of manuscripts. Among them are the works of Aristotle in the ancient Armenian language.
Sweet grapes grow near Mount Ararat
This nursery rhyme is not entirely about Yerevan, because Ararat is located on the territory of modern Turkey. But there is a real miracle not far from the capital of Armenia, which looks especially amazing against the backdrop of Ararat. During the tour to Yerevan, it is worth making time and visiting the Khor Virap monastery.
This uniquely beautiful building was erected in the 7th century over the underground prison, where St. Gregory the Illuminator languished for fifteen long years. His jailer, King Trdad III, was eventually converted to Christianity by his own captive, and the entrance to the dungeon is still open to everyone who wants to touch history..
The observation deck at the Khor Virap monastery is of no less value. It offers breathtaking views of the holy mountain of Armenians, which are no less delightful than the panorama in the window of a liner approaching landing over Yerevan..
Photos