Dishes of Armenia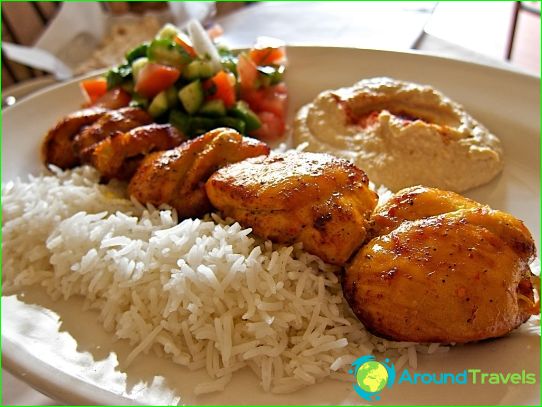 The traditions of Armenian cuisine have been preserved from time immemorial. Experts believe that 2500 years ago the Armenians already knew how to bake bread. The nuances of cooking Armenian food are still observed today. Armenian dishes have a complex and laborious preparation technology. Most of them require whipping and stuffing. Many foods are prepared in parts, which are then combined into one whole..
Products used
Lavash is one of the main food products of Armenians. This is bread that is baked on the walls of a round clay hearth or tandoor. In such a stove, locals smoke fish and poultry, make porridge and bake vegetables. In Armenian cuisine, there are dishes of different composition with a complex aromatic and taste range. They are prepared from products grown in the Ararat Valley and the Armenian Highlands. Chefs actively use spices: cilantro, black pepper, basil, tarragon, garlic, thyme, onion. The dishes of Armenia are generally very spicy. Cardamom, saffron, cinnamon, vanilla and cloves are added to the confectionery. The residents of Armenia pay great attention to fruits and vegetables. They are consumed fresh, dried, pickled and pickled. They are added to the first and second courses. Popular vegetables include cabbage, carrots, potatoes, tomatoes, eggplants, peppers, spinach, sorrel, zucchini, etc. Fruits are added to dishes with meat and fish. For example, lemon, quince, cherry plum, dried apricots, raisins and pomegranate.
The most common dishes
The most popular meat dishes include khorovats (a type of shashlik), iki-bir (shashlik made from fat tail fat and beef), kyufta (balls of meat), tolma, kololak (meatballs), etc. Of the soups, Armenians prefer bozbashi. They are made from lamb brisket, vegetables and fruits. They also prepare cereal soups with vegetables, putting rice, sauerkraut, beet tops, raisins, nuts, dried apricots in them. From grain they use barley, millet, rice, wheat, legumes. Dairy products have a place of honor in the national cuisine. They are used as components in complex dishes, as well as in their pure form. The Armenians prepare various cheeses, the sour milk drink tan, chortan paste and other products. Cheese is the pride of the people. They are made from goat, cow and sheep milk. They are salted, unleavened or smoked. Cheese, wrapped with vegetables and herbs in pita bread, is the simplest snack. An important component of the Armenian table is matsyun, a fermented milk product. On its basis, okroshka is prepared in the hot season. In winter, hot soup is made with this product..
Photos