Canberra - the capital of Australia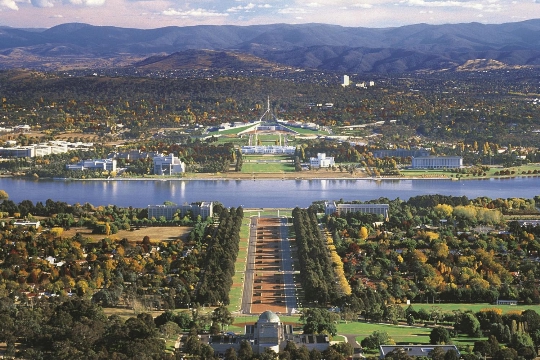 The capital of Australia - Canberra - is located on the banks of an artificial reservoir and is located between two Australian cities - Sydney and Melbourne.
History of the city
The city was built with the aim of reconciling two rivals who fought for the title of the country's capital. To end all senseless disputes, the government decided to build a completely new city, geographically located between the two failed applicants..
A huge number of projects were proposed, but the most interesting was the development of Burleigh Griffin. Due to the fact that the project took into account all the features of the local landscape, the city perfectly blended into the area and even became a visual example in textbooks on urban planning.
Modern Canberra
Canberra fulfills the only role for which it was built - from here the whole country is governed. It is on the territory of the city that the House of Parliament, the residences of the embassies of other countries and the headquarters of various organizations are located. But the main offices of the largest monopoly companies, as before, are located in the key industrial cities of Australia - Melbourne, Sydney and Perth..
What is worth seeing?
Canberra is a small town that you can get around in just a day. Still, there are places here that are worth visiting. For example, a private zoo and aquarium located in the western part of the lake.
«Questacon», center of science and technology, will interest students and travelers with children. Both the indigenous people of the country and visiting tourists come here..
The War Memorial in Canberra is a national monument and is dedicated to military personnel who died or participated in wars. The memorial is, in fact, a huge world-renowned military museum.
The Canberra Portrait Gallery has collected a huge collection of works by famous Australian artists and world celebrities.
The capital hill is the center of the entire city and was chosen for the Parliament building by the city's architect himself..
Entertainment
The central part of Canberra invites tourists to spend time in restaurants and bars. Especially gambling guests can tickle your nerves in the casino. Not too convenient, most restaurants and entertainment venues are closed on Sundays. And remember that smoking on the territory of any institution is strictly prohibited..
If you have planned to spend a couple of days in the capital, then the choice of places to stay is simply huge. It offers both budget hotels and luxury apartments.
Photos