Airport in Salzburg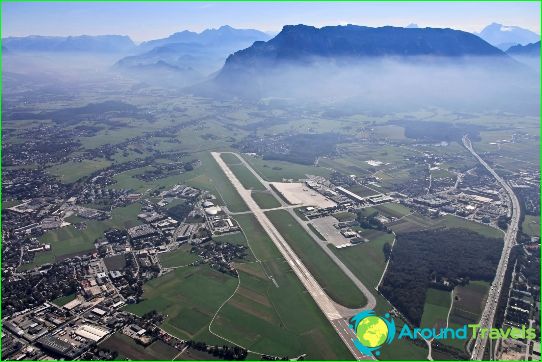 The second largest international airport in Austria is located in the city of Salzburg, 4 km west of the city center. The first passenger flights from this airport began to operate in the 26s of the last century. The airport is named after the great composer V.A. Mozart.
At the moment, the airport in Salzburg is an important part of supporting tourism and the economy of the region. It belongs to the city authorities of the city of Salzburg and the authorities of the land of the city, at 25% and 75% respectively.
The airport cooperates with many European airlines, including well-known Russian airlines - Moscow (previously «Atlant-Soyuz»), Aeroflot, Transaero - the last 2 operate charter flights.
registration
Check-in for charter and regular flights starts 2 and 1.5 hours in advance, respectively. Registration ends in about 45 minutes.
Airport infrastructure in Salzburg
The airport has one concrete runway and a length of 2750 m.Currently, there are 2 terminals at the disposal of passengers, and Terminal 2 is used only during winter flights..
The airport in Salzburg offers a range of services that will allow passengers to get the most comfortable conditions for waiting for their flight..
Here passengers can have a bite to eat in cafes and restaurants, visit shops, including duty-free shops..
For passengers with children, there are playgrounds, a mother and child room. Also on the territory of the terminal there are wireless Internet Wi-Fi, ATMs, post office, luggage storage, etc..
Transport
The main way to travel from the airport to the city is by buses. Buses from the airport leave every 15 minutes. The ticket price for adults and children is different and is 2.10 and 1.10 euros, respectively. In addition, from the airport in Salzburg, you can get to some of the nearest areas. The flights are operated by comfortable Postbus buses. The fare depends on the route.

Photos Salzburg airport