Christmas in Vienna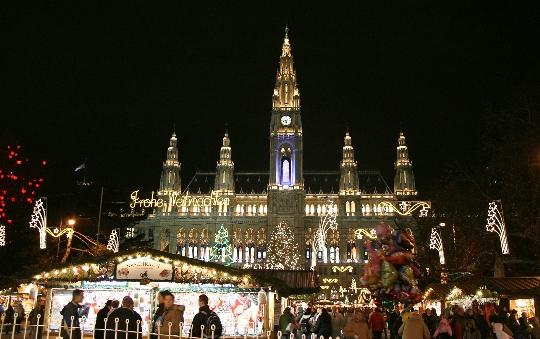 Christmas in Vienna is a magical holiday, accompanied by festive shopping, seductive aromas of traditional delicacies, street choirs performing Christmas carols.
Features of the celebration of Christmas in Vienna
4 weeks before the holiday, the Austrians decorate their houses with wreaths of spruce branches, on which they set 4 candles: 1 candle is lit every Sunday, i.e. on the last Sunday before Christmas, all 4 candles will be lit. Christmas is celebrated on December 24: traditional food such as goose, carp and sausages are displayed on the table. And for this day, it is customary to bake anise cones, donuts with jam, stars with cinnamon and other pastries..
If you wish to reserve a table in a restaurant for a Christmas dinner, it is best to do so at least 2 weeks in advance - you will be offered to enjoy smoked sausages, schnitzel, apple strudel and other Austrian dishes.
Entertainment and celebrations in Vienna
It is recommended to attend musicals, dramas and concerts on Christmas Eve, such as the theater "An der Wien" or the Vienna State Opera. If you wish, you can attend concerts with Christmas carols in St. Stephen's Cathedral.
Can't you imagine spending your leisure time without social events? On Christmas Eve, it is worth remembering the traditional Viennese balls: during the festive period there are about 300 balls! Since the price of the issue directly depends on the budget of travelers, you can pay attention to the Schönbrunn Ball (70 euros) or the Imperial Ball at the Opera (cost up to 1000 euros).
Christmas markets in Vienna
Locals and visitors to the Austrian capital should take a look at the following Viennese Christmas markets (starting at the end of November):
Central fair on the Town Hall Square: a 28 m high spruce tree is installed here every year, a skating rink is poured, visitors are offered to eat cotton candy, baked apples, fruit punch, glazed fruits, as well as to acquire handmade wooden souvenirs, Christmas tree decorations, Christmas toys.
Christmas Market on Spitalberg: stock up on scarves, hats, handicrafts, glass figurines, drinks and snacks.
Christmas Market on Freyung Square: here visitors are offered to acquire handmade things - angels embroidered with pearls, wax lanterns, gingerbread, Austrian mulled wine with lemon and cinnamon. Guests who decide to treat themselves to a punch should be aware that after drinking a drink, they can return the mug to the seller and receive 2 euros in change (a punch costs 5 euros). Or you can leave the mug for yourself and take it with you to subsequent tastings.
It should be noted that Christmas markets often host master classes on making toys and sweets, organize creative workshops for children, and also host theatrical performances on Christmas themes..
Photos