Taxi in Vienna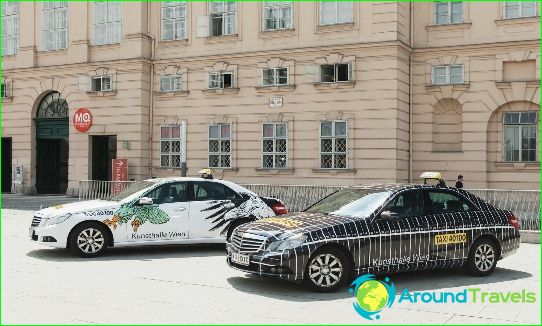 Taxis in Vienna are not cheap, but almost all the cars presented are high-class cars (if you wish, you can order a taxi for 6-8 people, and even use the services of a bicycle taxi).
Taxi services in Vienna
There are no private taxis in Vienna - all cars are equipped with a meter, have the symbols of a taxi, and in the cabin there are announcements that contain information about tariffs, as well as contact numbers of the carrier company..
It is not customary to stop a taxi on Vienna's streets (no matter how you attract the driver's attention, he will not stop): if necessary, follow him to a specialized parking lot (there are quite a few of them in every district of the city). Even if there is not a single car in the parking lot, there you will see phone numbers by which you can directly contact the dispatcher and place an order.
You can call radio-equipped taxis at the following telephone numbers: 40-100; 31-300; 60-160. It is worth noting that in Vienna, a special service is provided for the hearing-impaired, which consists of ordering a taxi by fax 408-15-25-848. In addition, those who wish can call a taxi, the driver of which will tell passengers about the main Vienna sights along the route (+ 43- (0) -664), and women - specially created taxis for them (+ 43- (0) -601-60).
Bicycle taxi in Vienna
You can find bicycle taxis near the main attractions of the city: for a ride within the same area, you will pay about 10 euros. Such a taxi can carry 1-2 passengers and small luggage..
Taxi cost in Vienna
Wondering how much a taxi costs in Vienna? Please note the following information:
boarding costs an average of 2.5 euros;
travel is paid based on a tariff of 1.5 euros / 1 km;
at night (from 24:00 to 06:00), on holidays and weekends, there is a special tariff that increases the fare by 20%;
30 seconds of waiting will be 0.2 euros, and 1 hour - 27 euros;
if you book a taxi for more than 4 people, the surcharge will be 3 euros.
On average, the cost of a trip from the airport to the center of Vienna costs 40 euros, and a trip around the city, depending on the distance, is about 30 euros..
If you plan to make a trip out of town, it is advisable to agree on the cost and route with the driver in advance.
You will be able to pay both in cash and by credit card, but it is advisable to inform about your desire to pay in one way or another before ordering or boarding. At the end of the trip, the driver is obliged to issue a check to the passenger. If this does not happen, it makes sense to contact the dispatcher.
Tip: to avoid being fined, you should not smoke in a Viennese taxi.
Getting around Vienna is easier, more convenient and more comfortable by taxi, especially since there are practically no traffic jams in the Austrian capital.
Photos of taxi in Vienna