Where to eat in Vienna?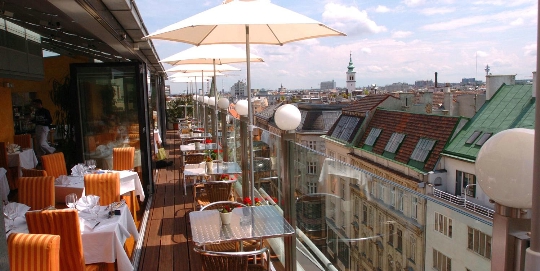 On vacation in the Austrian capital, for sure, you will be faced with the question: "Where to eat in Vienna?" If you are a fan of Viennese cuisine, head straight for "Dunkelbunt", where you can taste the best dishes from true masters of their craft (dumplings, schnitzels, Viennese chicken, goulash, boychel are very popular with visitors).
Where to eat in Vienna inexpensively?
You can eat inexpensively in the city in wine taverns (Viennese Horigens) - here they serve both simple peasant dishes and gourmet treats, as well as their own high-quality wine (democratic prices are explained by the fact that these establishments are focused on locals, and not on tourists ).
It is worth taking a closer look at the self-service restaurant "Rosenberger" - the institution offers its guests a wide range of salads and all kinds of snacks at reasonable prices.
You should definitely dine in a typical Austrian restaurant "Gasthaus kopp", which serves quite impressive portions of food. Here it is advisable to order a meat plate, homemade soup, pork ribs with garlic and sauce (a set lunch will cost 13-15 euros).
Where to eat in Vienna delicious?
Salm Brau: In this restaurant you can taste traditional Viennese dishes - grilled pork ribs, knuckle, Viennese schnitzel. In addition, this institution has its own brewery, so here you can order beer, as well as wine and other drinks..
Plachutta: According to critics, Viennese and tourists alike is the best restaurant in Vienna, where you can taste dozens of variations of the Tafelspitz meat dish, and, of course, the Viennese schnitzel.
Caf Central: This café specializes in German and Austrian cuisines - during the day you can have a tasty and satisfying lunch after sightseeing, and in the evening - reserve a table for dinner to the sound of a piano or a small orchestra.
Ribs of Vienna: in this Viennese restaurant you can enjoy the tastiest pork ribs of various sizes, roasts and with different sauces.
Gastronomic tours in Vienna
On a gastronomic journey through Vienna, you will be driven past the city's main attractions and then taken to Schönbrunn Palace. Here in the imperial bakery cafe "Rezidenz" you will be shown a strudel show - in your presence they will prepare the famous Viennese dessert, which you can later taste (tea / coffee will be served with the delicacy).
What awaits you on a food tour of Vienna? Cooking classes from renowned chefs, visiting the oldest market in the city accompanied by a chef (shopping for Viennese food), culinary delights in authentic restaurants.
In the city of musicians and thinkers, parks and palaces, waltzes and operas, you can get very close to the unique traditional cuisine.
Photos