Holidays in Cambodia in November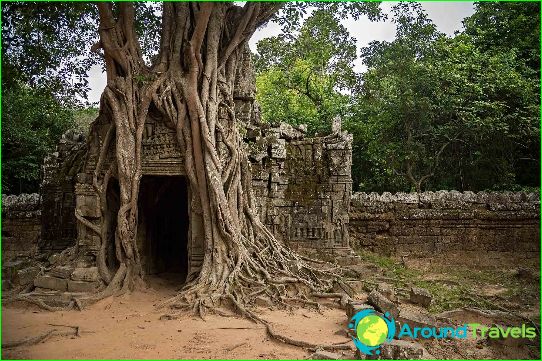 Cambodia is a culture unfamiliar and surprising in everything for Europeans, a dissimilar way of life, and other values. Here in the East, everything is different. And if you are planning a vacation in Cambodia in November, then we advise you to think about excursions that you can take at this time. At this time, the rainy season ends, and if precipitation falls, it is mostly at night..
What to see, where to visit
Of course, many tourists are attracted by the ancient city of Angkor. It is lost in the jungle and amazes with its grandeur and former wealth, splendor of stone decorations ... By the way, it is also best to visit it at this time of the year, when the summer heat is not felt. Ancient temples look extraordinary, there is a very strong energy here, which is felt literally in everything: in ancient buildings, and in the huge trees that surround the city, and in the air itself, which seems to be saturated with an extraordinary distant past. There are still many secrets and mysteries that these places keep, who knows, maybe you will reveal one of them ...
You can relax on the sea at this time in Sihanoukville, this is a famous resort place in the country. Here you will be offered to visit national parks, you can go to one of the islands and feel like a real Robinson, go diving, ride a yacht or boat ... There are Kbal Chay waterfalls 16 km from the city, there is also a temple in the rock, which is more than six centuries old. Grab some coins for an offering in the temple.
Want to see how people live on the water? Yes, there is such a thing. There are Vietnamese villages in Cambodia where people live in houses on the lakes. You can go on an excursion to one of these villages - Tonle Sap. Organized here are excursions to the crocodile farm, where you can treat yourself to an unusual barbecue and watch these predators. They also organize excursion tours in this country and in jeeps, where extraordinary adventures await you..
Some tips for tourists
It is not recommended to drink unboiled water here..
If you visit religious temples, then women must have long skirts, and men not shorts, but trousers..
 Shoes are removed at the entrance to the temple, so you need to have socks in reserve.
If you want to take pictures of local people, then ask permission.
 There is no public transport as such, there is a taxi, you can use motorbikes, rent a car.
 There are such provinces (Pailin and Battambang) where it is better not to go without a guide.
From souvenirs, you can choose various spices and incense, silk products are in demand. Here you can buy a scarf, a handbag, a handkerchief very cheaply (only 2-6 US dollars). Very original watches are made here, precious stones are used in their decoration. A variety of silver products, jewelry for women will impress even the most discerning tourists. Local craftsmen are famous for carving on marble, basalt, making souvenirs from sandstone, weaving products from rice straw and bamboo, and in earthenware dishes you can cook dishes on the stove..
Come - this is an interesting country to travel to. By the way, this is a kingdom! And there are few of them left on Earth.
Vacation photos in Cambodia