Metro Toronto: map, description, photo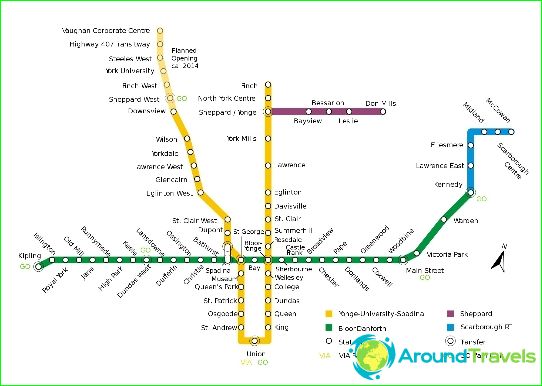 The Toronto Subway was opened on March 30, 1954. It was the 7.5 km Yonge-University-Spadina line. Currently, the Toronto metro consists of 4 lines, 80 stations. The total length of all tracks is 71.3 km. The metro is integrated into the general transport system of the city, consisting of 4 metro lines, 11 tram lines and 140 bus routes.
One of the lines (blue) with a length of 6.4 km belongs to the light metro, it consists of 6 stations and serves as an extension of the Bloor and Danforth green line.
Bloor and Danforth line (green) runs from west to east of the city under Bloor Street.
The Yonge – Spadina – University line (yellow) is U-shaped. Both of its branches are directed to the north, and the base with the Union station is located in the city center..
The Sheppard Line (lilac) is the shortest metro line in Toronto. It passes under Sheppard Street. In the near future, it is planned to expand it to the Scarborough station of the planned light rail.
In addition, by 2016, work should be completed on the commissioning of a new northern branch, which serves the suburb of Toronto, the city of Vaughan..
Opening hours and traffic schedule
The Toronto Subway runs from 6:00 am to 1:30 am. Weekends: 9:00 am to 1:30 am. On holidays, a special timetable is introduced. From Monday to Saturday, the train interval is 2-3 minutes during peak hours, at other times trains run every 5 minutes.
Subway tickets Toronto
One-time tickets, tokens and vouchers are used to pay for travel on the Toronto subway, which are sold at ticket offices and vending machines in the lobbies of metro stations. Travel discounts apply to children aged 2 to 12, retirees and students. For children under the age of two, travel is free.
Photos of Toronto subway