Ottawa is the capital of Canada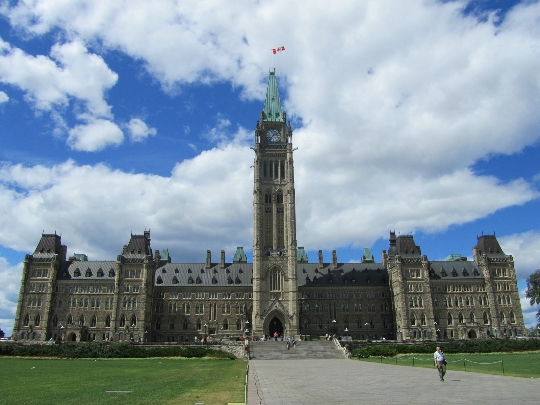 The capital of Canada - Ottawa - is distinguished by its particularly clean streets and highly organized residents who are very friendly to the guests of the capital..
History of the city
In the thirties of the 19th century, on the site of modern Ottawa, a small village was founded for the builders involved in the construction of the Rideau Canal. Its name, Bytown, he received in honor of the head of the construction, Lieutenant Colonel John Bye. In 1850, the village was recognized as a city, and five years later it received a new name, becoming Ottawa. On the eve of the new 1858, Queen Victoria first chose the city as the capital of the province, and a little later, in 1867, Ottawa became «heart» the whole state.
What is worth seeing?
Ottawa is an amazingly beautiful city and you will not be bored here.
The Basilica of Notre Dame is a magnificent example of neo-Gothic architecture. It is currently the oldest temple in the city. The gilded spiers and the statue of the Virgin Mary are perfectly visible from the top of Parliament Hill.
The Tower of Peace is a symbol of Canada. Visually, it is a 55-meter clock tower, which is the central part of the architectural complex. The building adorns the obverse of Canadian $ 20 and $ 50 banknotes. Inside the tower there is a carillon equipped with 53 bells. The decision to establish it was made in 1918, and it was opened in 1927. Nowadays you can listen to it almost every day, and the sound spreads over several blocks. The instrument is played for almost 200 days throughout the year.
The Museum of Civilization in Ottawa was established in 1968. Its exposition will acquaint you with more than a thousand-year history of the city, and a huge diorama helps to plunge into the events of bygone times. The museum presents halls that are completely dedicated to the indigenous population of the country and their customs. Here you can also get acquainted with Canada during the European colonization. It is best to choose either early morning or weekday evening for visiting. Otherwise, it is simply impossible to squeeze through the crowds of visitors without earning a nervous tic..
The Rideau Canal, two hundred kilometers long, connects Ottawa and Kingston. The true purpose of the waterway was to connect Montreal and Lake Ontario. Currently, the canal is used exclusively as a tourist route. In summer, you can rent a pedal boat and ride at your own pleasure, and in winter, when the water freezes, it turns into a huge ice rink.
Be sure to visit Stone Arch located near Jones Falls. Here you should pay attention to the house of the sluice master, dated 1841, and the oldest hotel «Kenny» (1888).
Ottawa is just the perfect vacation spot. The capital of Canada is especially beautiful in the fall, and in the summer there are a lot of festivals..
Ottawa
Photos