Ottawa shops and boutiques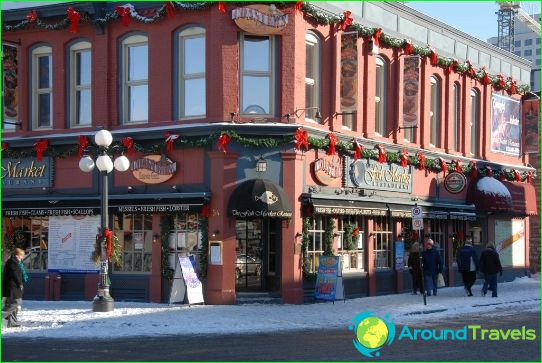 Along the banks of the beautiful Ottawa River, in the habitat of Indian tribes, some of which called themselves Ottawa, is the magnificent capital city of the same name. Once upon a time, Indians gathered in this picturesque area to bargain for useful things for war or peaceful life. The name of the main city of Canada, according to one version, is translated from the language of the indigenous people - «trade», «merchants». Currently, tourists do not forget the first lesson of the inhabitants of the local forests and are happy to exchange the available cash and «non-cash» for souvenir tomahawks, feather crowns, as well as goods more appropriate to the present times.
Popular retail outlets
As in many cities, the historic part of Ottawa is ideal for pleasant walking and cognitive walks and shopping at the same time. In Ottawa, this is primarily Sparks Street. Its shopping area is called Sparks Street Mall, and it stretches from the original sculptural group of rejoicing people on Elgin Street to a shopping center. «240 Sparks Street» at the intersection with Bank Street. It is full of large department stores and small boutiques. The eclecticism of historic Victorian buildings and ultra-modern buildings evokes an overwhelming feeling, reinforced by the contemporary, vintage, artsy or neutral items in the shops here..
Bank Street Promenade - the shopping part of the longest Bank Street. There are also enough shops here to forget about all your troubles and surrender to the excitement of finding the necessary and not so things..
Preston Street is also called Little Italy. This street is home to countless commercial establishments, one way or another reminiscent of the sunny country. So, if you are in Canada and you miss Italian food and Italian brands, you are welcome..
There are plenty of fashionable shopping centers in Ottawa today. Most Popular: «Bayshore Shopping Center»,«Place d'Orl ans»,«240 Sparks Shopping Center», «Billings bridge plaza».
The local Byward Market is named after the founding father of the settlement of the colonists who drove the Indian tribes out of these picturesque places. Farmers with their mouth-watering products settled in the building of the century before last. Not a single tourist route deprives this colorful market, and in combination - a place of meeting and communication of townspeople.
Photos of Ottawa shops