Chile wines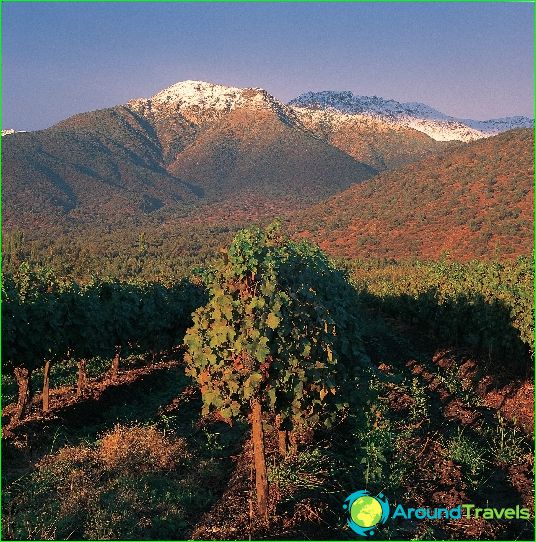 The distant South American state of Chile is one of the few on the continent whose wines are competitive with European ones. The foundations of the wine industry were laid here in the 16th century by the Spaniards, and then real French grape varieties came to the continent..
The phylloxera epidemic that hit the Old World in the 19th century practically destroyed European vineyards. Chile's agriculture was not affected by the pest, and the country has preserved a French vine that was not grafted with local varieties. This made it possible to obtain Chilean wines of decent quality, which led to the popularization of these drinks throughout the world. Experts talked about a real "Chilean boom" in the late 90s, when Chile's wine exports grew 20 times in a couple of years.
Geographic benefits
Chile is called a country with unique opportunities for wine production. The variety of soil and climatic conditions allows the cultivation of various grape varieties and the production of many wines of the most different strength and taste. The protection of vineyards by natural barriers in the form of mountains and deserts helps nature maintain a natural microclimate on the plantations, the mountainous-hilly terrain ensures ideal ripening of the entire abundance of Chilean grape varieties. An equally significant contribution to the development of the industry is made by the state, which supports agriculture and stimulates the inflow of foreign investment into the country..
Features of varieties
Chile wines have individual characteristics that allow a true connoisseur to recognize them easily among dozens of similar ones:
Unseasoned Chile wines have a rich varietal aroma with a special depth. Notes of berries and tropical fruits are a must in red Merlot and Cabernet.
On the contrary, the taste of Chilean wines lacks a vivid manifestation of character, which is explained by the not too prolonged aging process. The wine does not have time to soak with the taste of the barrel, as it turns out to be bottled.
Chile wines are marketed at optimum maturity and therefore should not be stored for years and preferably drunk within a couple of years after purchase..
Three categories
All Chilean wines are divided into three categories, belonging to each of which becomes clear after studying the label. Table wines do not contain any mention of either the grape variety or the region where the wine is produced. Wines with an uncontrolled origin contain information only about the grape variety, year of harvest and the producer. For the most expensive, the label provides information about the variety, place of bottling, harvest year and the name of the winery..
Photos