Prague in 5 days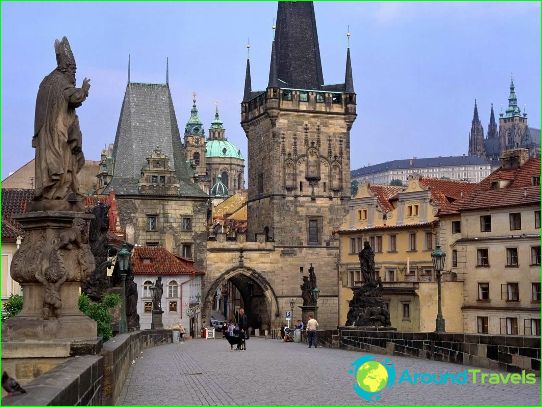 The Czech capital is one of the most beautiful European cities, and excursions around it are very interesting and exciting. If your plan is Prague in 5 days, try not to miss the famous sights and visit the main museums.
Old town and its surroundings
The following are definitely recommended for viewing in the historical center of the Czech capital:
Fortress Prague Castle, founded in the 9th century and representing a complex of structures, temples and buildings. Its main decoration is the Cathedral of St. Vitus, and the fortress itself is not only an architectural monument, but also serves as the residence of the Czech president.
The Charles Bridge, which connects the two historic districts of Prague, girded the Vltava back in 1380. Since then, it has been decorated with three dozen sculptures, each of which is an independent masterpiece. It is always crowded on the bridge, and therefore it is best to devote excursions early in the morning..
Old Town Hall, built in the 14th century in the Gothic style. Today, a museum is open here, and a marriage registration ceremony is held in a special ceremonial hall. At the beginning of the 15th century, the famous chimes were installed on the Town Hall tower.
The Church of the Virgin Mary in front of Týn is a functioning church on the Old Town Square. Built in the 14th – 15th centuries, it impresses with its ideal Gothic proportions and Baroque interiors. By including a visit to the church in the plan for exploring Prague in 5 days, you can learn many interesting legends and stories associated with its construction.
How gold was "brewed"?
Another interesting Prague attraction is located in the old town. This is a whole street of small houses where alchemists once lived. They were looking for a philosopher's stone and tried to get gold from the most familiar materials..
Then the dwarf houses, built into the thickness of the fortress wall, became the dwellings of the minters of real gold. Later, the quarter was settled by the poor and artisans settled in the houses of the Golden Lane. Today, there are numerous souvenir shops here, and the street itself has become a famous museum in Prague..
Old Bohemian tavern
One of the evenings in Prague in 5 days is worth a leisurely tasting of local cuisine and famous Czech beer. The signature drink is brewed in almost every restaurant and cafe, and therefore it is simply unrealistic to taste all its varieties. But you need to strive for perfection, and therefore it is definitely worth booking a table in an authentic pub. Various signature snacks are served with beer in such restaurants - salty pretzels, sausages and other meat delicacies. When choosing a restaurant, it is better to turn a little off the usual tourist paths so that the price tag becomes more pleasant and the food is a real traditional Czech.
Recreation and tourism - Prague

Photos