Holidays in Karlovy Vary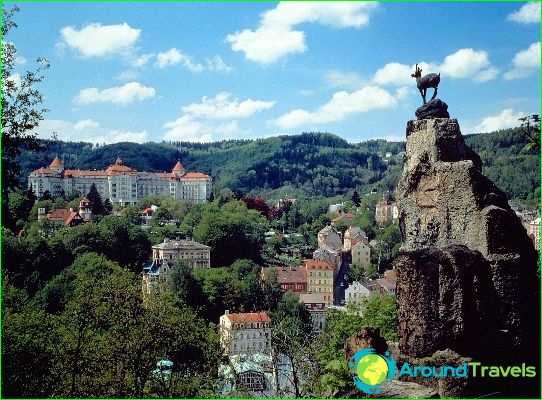 Holidays in Karlovy Vary are chosen by people who value beauty and tranquility, because in this city there are many gardens and parks, buildings made in various architectural styles, tempting shops, respectable hotels, including spa hotels..
The main types of recreation in Karlovy Vary

Healing: everyone goes to Karlovy Vary whose goal is to improve their health. Before starting treatment, the therapist (doctors speak both English and Russian) assigns each patient to undergo tests, according to the results of which an individual treatment program is drawn up. For treatment (the resort specializes in neurological, liver and stomach diseases, metabolic disorders, diseases of the musculoskeletal system), a drinking cure, baths, irrigation and rinsing based on water from mineral springs (water temperature + 40-70 ˚C), mud and paraffin compresses, electrotherapeutic procedures, inhalations, massage, acupuncture, diet food. It should be noted that it is advisable to come to Karlovy Vary for treatment for 7-28 days.
Excursion: as part of excursion tours you will visit the Museum-factory "Moser" (you will be introduced to the technology of glassware production and will be given the opportunity to look at the collection of crystal glassware), the Japanese Garden of Stones, the Karlovy Vary Museum of History and Local Lore, the Jan Becher Museum, you will see the Church of Peter and Paul, the Mill Colonnade, the Goethe Tower, the Old Castle.
Active: active tourists can enjoy such entertainment as horse riding, fencing, tennis, golf, squash. If you wish, you can go to an open shooting range (10-15 minutes drive from the resort area), where you will be able to shoot at a moving target from a hard drive (everything you need - weapons, ammunition, targets, is provided on the spot).
Eventful: do not miss the opportunity to see the city immersed in a festive atmosphere - visit Karlovy Vary during the Gastronomic Festival "FoodFestivalKarlovyVary" (May), Carnival with contests, procession of masks, performances for children (June), Karlovy Vary Folklore Festival (September), celebrations "Days of Beethoven" (August).
Prices for tours to Karlovy Vary
The best time to travel to Karlovy Vary is May-September. This period is considered a high season, and at this time all kinds of festivals and conferences take place, so prices for tours increase by 40-50%. As such a low season does not happen at the resort, since people come here for treatment all year round, but you can still buy more weekend vouchers to Karlovy Vary in January-February.
On a note!
It is best to get around the city by buses, and to get to suburban areas - by high-speed trains (tickets should be bought in advance at railway stations or at a special kiosk).
When visiting local bars and restaurants, it is advisable to leave a tip (10% of the order), and also thank the guides, taxi drivers and maids for the services rendered to you with a small amount of money.
As a souvenir of your vacation in Karlovy Vary, you should bring a liqueur "Becherovka", Karlovy Vary cups for drinking mineral water, cosmetics based on mineral waters, products made of crystal or Bohemian glass, beer mugs (when purchasing antiques and works of local artists, it is important to draw up all the necessary documents).
Photos of holidays in Karlovy Vary