Holidays in the Czech Republic in September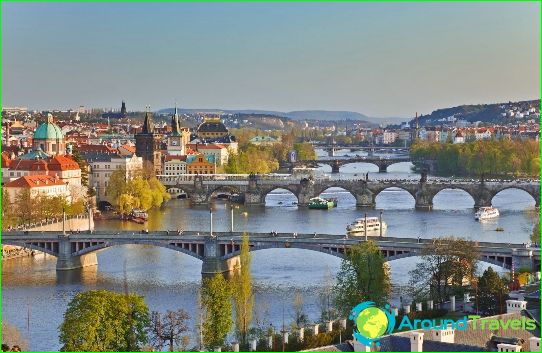 And the velvet season is also coming to this landlocked country. Summer is coming to an end, this is noticeable by the decrease in the average temperature and the thin cobwebs flying over the golden Prague.
The tourist flow begins to dry up, firstly, flocks of schoolchildren who went to their native desks disappear, and secondly, parents with children are also in a hurry to return to their native land. Therefore, tourists who have chosen a vacation in the Czech Republic for themselves and their families in September receive wonderful days of the coming golden beauty of autumn and relatively free streets of ancient towns and places for excursions into history..
Weather in September
The mild, comfortable state of September weather in the Czech Republic cannot but contribute to long walks, tastings of delicious beer in open-air cafes. The beginning of the month pleases with quite comfortable temperature conditions +20 ºC, and on some days even +24 ºC. By the end of September, thermometers go down to +16 ºC. Tourists are saved by windbreakers or light jackets.
«Prague autumn» invites
A music festival with such a poetic name is ready to present outstanding musicians of the world to Prague residents and guests of the capital. At various cultural events, you can hear the works of Dvořák, Brahms, Tchaikovsky and other great composers. Old city quarters become chic decorations that create a wonderful backdrop..
Feast of St. Wenceslas
It is celebrated annually, on September 28, its official name is Statehood Day. The locals themselves prefer to celebrate it as the Day of St. Wenceslas, who is the heavenly patron of the Czech Republic. Therefore, without fail, beautiful, solemn masses are held in numerous churches, festivities are organized in squares and in parks..
It was Saint Wenceslas who initiated the construction of a rotunda church in Prague, on the site of which the Cathedral of St. Vitus is now located, which is one of the main attractions of the Czech capital..
This religious building contains regalia that were used in coronation ceremonies in medieval Bohemia. Tourists entering the cathedral are amazed by the impressive panorama of the cathedral in the Gothic and Neo-Gothic style, lancet windows decorated with incomparable stained-glass windows. The space of the temple is conditionally divided into two spheres, heavenly and earthly, allowing everyone who enters to feel the touch of the lofty, divine and human at the same time.
Photos of rest in the Czech Republic