Districts of Nice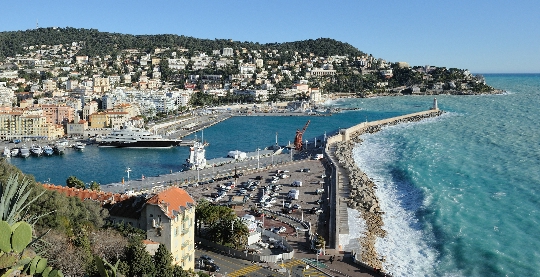 A glance at the map reveals that the districts of Nice divide the city into two parts - the old (left bank) and the newer,"french" (right bank). Areas of Nice include Fabron, Cimiez, Carred'Or, Mont Boron, Vernier, Port de Nice, Vieux Nice, Arenas (23 districts and quarters in total).
Description and attractions of areas

Vieux Nice ("Old Nice"): tourists are offered to go for a walk along Cours Saleya street (a flea market opens on Mondays, where you can get old photos and postcards, antiques, vases and jewelry, and on other days - food and flower markets) and to inspect the Cathedral of Saint Reparata (internal the decoration is decorated with Renaissance canvases of religious themes) and the Prefectural Palace (in the interior - frescoes, gilding, wood carving, Corinthian columns; there is a winter garden and a gallery with works by the artist Jules Cheret).
Port de Nice (port area): will delight you with restaurants where you can taste seafood, and from here it is proposed to go on a yacht trip.
Musiciens: an important site in the area is the Notre Dame Basilica (2 square towers are 65 m high; scenes of the Assumption of the Virgin can be seen on the eastern façade).
Vernier: famous for its wine shop "Nicolas" and the National Museum of Marc Chagall (in addition to 17 paintings of biblical themes, the museum has other works by Chagall - engravings, stained glass windows, sketches, etudes).
Carre d'Or: famous for bars, boutiques of the best brands, Albert I Garden (travelers can relax here surrounded by fountains, palm trees, blooming roses and sculptures; the garden is decorated with the Venet Arch, made of black metal, and a playground is equipped for children).
Cimiez: vacationers can take photos of the old houses and buildings located here, visit the Matisse Museum (which is a repository of Matisse's works in the form of paintings, sculptures, various sketches) and the Monastery Garden (guests will relax surrounded by pomegranate and citrus trees, different flowers and plants winding through artificial arches), and the olive groves of Cimiez invite guests to attend the International Jazz Festival every year.
Where to stay for tourists
Tourists wishing to stay at a hotel, from the windows of which you can admire the azure coast, are advised to pay attention to accommodation facilities near the Promenade des Anglais (accommodation is far from cheap, but attractions, shops, the sea are all nearby).
Interested in a place where life is in full swing both day and night (night walks, parties, concerts)? Your option - hotels in the area of ​​Old Nice.
Interested in relatively cheap hotels? You can find them near the port and in the musicians' quarter (Musiciens).
Photos of the districts of Nice