Modern paris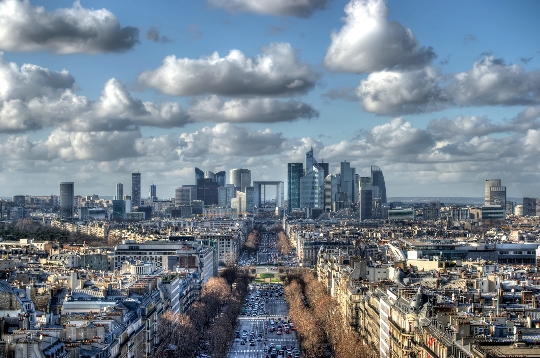 The French capital owes the construction of the La Défense business district, which is often called Parisian Manhattan, to Charles de Gaulle. His idea to relieve the center of endless traffic jams by moving financial and business institutions outside the city limits resulted in the construction in 1958 of the first building in the district, designed to become the new capital - stylish, dynamic, and entrepreneurial. Just ten years later, Parisians received several skyscrapers with thousands of office space and a REP expressway linking modern Paris with the Grand Opera and the Arc de Triomphe.
Architectural axis
An arch has also appeared in the new district. In clear weather, it is perfectly visible from the historical part of the city, sparkling in the sun with thousands of sunny hares. The large arch of La Défense is faced with Carrara marble, and underneath is an installation that simulates the floating fabric falling from above..
The Great Arch is one of the landmarks of modern Paris. It is located on a straight line with the old Arc de Triomphe and the Louvre arch. The resulting architectural axis symbolizes the royal road along which the French court passed annually to the summer palace of Versailles..
In the blue sky
Parisian skyscrapers are inferior to overseas or Chinese heights and the number of floors, but in the Old World they confidently occupy one of the record places:
The first skyscrapers appeared here in the 50s of the last century and today there are about fifty of them in modern Paris..
Five skyscrapers soared more than 180 meters into the sky.
The FIRST Tower is the tallest in the country. Together with the spire, it rises 231 meters.
The height of the TOTAL building is 190 meters, and its uniqueness lies in the rational consumption of energy and the distribution of other resources. Such buildings are called "green skyscrapers".
The French National Center for Technology and Industry is a structure with only three pivots. Moreover, the length of each arcuate side of the building is more than 200 meters..
Sculpture in modern Paris is of no less interest to travelers. There are various monuments, installations and statues right on the streets, and their authors are very famous masters from the USA and Spain..
Useful little things
Special machines at every corner of the La Defense area will help you navigate the space and print out a map of the route required by the tourist. Fans of the history of transport will like the exposition of the Automobile Museum, where about a hundred rare and popular copies of cars are presented for the judgment of visitors. The Four Seasons Shopping Center will give fashionistas the opportunity to plunge into the fascinating world of shopping in Paris.
Photos