Holidays in Paris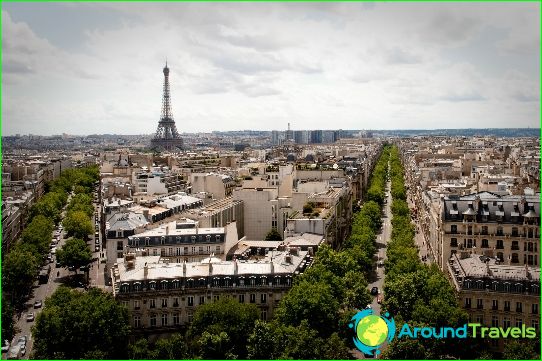 Holidays in Paris are popular with all groups of tourists - newlyweds, married couples with children (special attention is paid to visiting Disneyland), business people, fashionistas, fans of excursions.
The main types of recreation in Paris
Sightseeing: as part of sightseeing tours you will visit the Louvre, the museum'Orsay, Versailles, see the Eiffel Tower, Notre-Dame-de-Paris Cathedral, the Arc de Triomphe, the oldest European university - the Sorbonne, go on a day or evening boat tour along the Seine, walk around Montmartre, Tuileries Gardens, Bois de Boulogne and Champs Elysees. If your goal is to see everything at once, it is advisable to go on an excursion on a double-decker tourist bus (having bought a ticket, you can go anywhere to see the sight you like, and then continue your journey on another bus). Anyone who is interested in unusual excursions is recommended to go on such gastronomic tours as "Wine walks in Paris" or "Edible Paris".
Active: active travelers will be able to visit the water park "AquaBoulevarddeParis" (there are geysers, water slides, waterfalls, restaurants), as well as go cycling.
Event-driven: those going on event tours will be able to attend the Carnival "Fatty Bull Walk" (February), an exhibition of retro cars "Retromobile" (February), Film Festival (March), Food Festival (April), Horse Racing (May), Golf Tournament "AlstonFrenchOpen" (June), Rose Festival (June).
Prices for tours to Paris
You can travel around Paris all year round, but the best time to visit this romantic city is April-May, early summer, September-October. Prices for tours to Paris increase 2-3 times for the May, New Year and Christmas holidays, during the period of big sales and celebrations of bright events, as well as in June-September.
Budget tourists wishing to visit Paris during the high season are advised to book accommodation and air tickets well in advance of the intended trip. Another option to save on vacation expenses is to come to Paris in October-November and February: at this time, there is a slight decrease in the cost of vouchers (by 10-20%).
On a note!
In the summer in Paris, you will need light things, a hat and sunglasses, the rest of the time - warm clothes and an umbrella, and regardless of the time of the trip - cash and a bank card (it will be convenient to use it to pay for large purchases).
If your plans do not include paying fines, then do not smoke in public. Since traffic in the city is constantly hampered by traffic jams, it is not recommended to rent a car in Paris. To save money, it is advisable to purchase food in local markets - prices are lower here, and the quality of goods is sometimes even better than in large supermarkets.
As a souvenir of your vacation in Paris, you can bring a beret, a souvenir copy of the Eiffel Tower, retro posters, old photographs and postcards, perfumery products, Provencal herbs, Dijon mustard, French wine.
Vacation photos in Paris