Where to eat in Paris?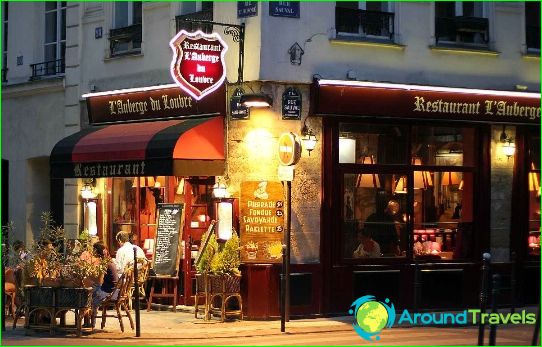 On vacation in the capital of France, any traveler asks the question: "Where to eat in Paris?". You can satisfy your hunger here both in a luxurious Michelin-starred restaurant and in a small family cafe (there are a lot of food outlets in the city). It all depends only on your budget.
In local establishments it is worth trying ratatouille, quiche, onion soup, Burgundy snails in wine, a plate of seafood, crème brulee ...
Where to eat in Paris inexpensively?
You can eat inexpensively in university canteens (crous) - a full meal (main course, salad, dessert) in such establishments will cost you 5-6 euros (the standard price for local students is 2.5 euros). It will not be possible to dine here on weekends and during student holidays, since during such periods they do not work (the opening hours of the canteens are on weekdays from 11: 00-14: 00).
Alternatively, you can go for lunch at a French restaurant that offers its visitors a service called "menu of the day". On average, you will pay 13-15 euros for a set lunch (appetizer + main course) (normally, only onion soup will cost you 11-13 euros).
You can eat on a budget in self-service Indian and Chinese restaurants: while walking around the districts of Paris, pay attention to restaurants with signs: "restaurant indien" or "traiteur chinois" (average bill - 6-7 euros).
Where to eat in Paris is delicious?
Brasserie Flo Paris: in this restaurant you can taste Alsatian cuisine (sauerkraut, sausages), and from desserts - profiteroles and baba.
Maison de la Truffe Marbeuf: if you've always dreamed of trying truffles, then it's better to do it in this restaurant. These valuable mushrooms are added to all dishes here - salads, risotto, and desserts..
La Coupole: this restaurant is a historical monument of Paris, the interior of which is decorated with columns, sculptures, mosaic floors ... In this place you can taste traditional French cuisine (emphasis on fish and seafood dishes).
Bertillion: this ice cream parlor offers its guests to enjoy a variety of ice creams, including wild strawberry and cognac flavors, as well as delicious sorbet.
Le Procope: in this coffee shop you can taste classic desserts (crème brulee, sorbet, ice cream, profiteroles, crème caramel).
Gastronomic tours of Paris
You can get to know the local gastronomic life on a walk around the Parisian market - your accompanying guide will tell you about the peculiarities of local products, teach you to distinguish, for example, squid from cuttlefish, and sole from turbot..
Are you dreaming of learning how to cook foie gras, onion soup, Burgundy meat and other French delights? A master class from the chef is what you need, at the end of which a tasting of the prepared dishes will be organized for you at a beautifully served table.
In Paris, a city that gourmets love with all their hearts, anyone can enjoy the masterpieces of French cuisine.
Photos