Berlin in 1 day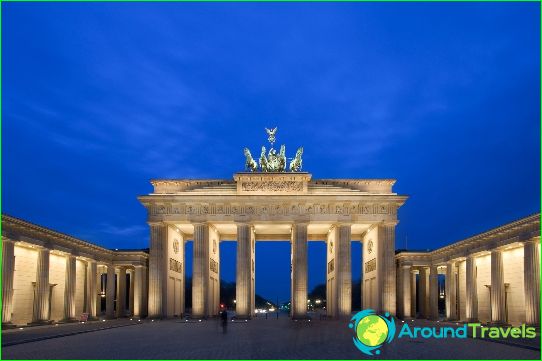 In terms of the number of its inhabitants, the German capital is second only to London in Europe, and the number of its attractions is not at all amenable to quantitative measurements. The idea of ​​exploring all of Berlin in 1 day may seem unrealistic, but every tourist is quite capable of seeing the most important, bright, grandiose and memorable..
On Museum Island
Berlin stands on the Spree River, which forms the Spreeinsel Island in its course. A huge number of museums are located at its northern end, and therefore this part of the city is called Museum Island. Its detailed walk is a great way to see if not all of Berlin in 1 day, then at least one of its beautiful old districts..
The main architectural gem of the Museum Island is the Berlin Cathedral, erected in the early 20th century in the Baroque style. Hundreds of tons of Silesian granite were spent on its construction, and the dome of the color of old turquoise rose into the sky by 114 meters. After seeing the cathedral and admiring its lush interiors, travelers take a rest on the cozy benches of the Lustgarten park, laid out in front of the temple.
The symbol of a united Germany
This is what the Germans call the Bradenburg Gate, which for many years divided two worlds - West and East Berlin. Today they symbolize the unity of the nation, and a photo against their background exists in the memorable album of every tourist. The gate was built at the end of the 18th century in the style of classicism, and its prototype was the ancient Propylaea of ​​Greek Athens. There is a chariot on the pediment of the gate, which is driven by the goddess of victory. Once Victoria and her quadriga were taken to Paris by Napoleon who seized Berlin, but after the defeat of his army, the sculpture not only returned to its rightful place, but was also awarded the Iron Cross..
Reichstag and pages of history
A visit to the Reichstag fits into the program «Berlin in 1 day». The building that houses the German Bundestag is familiar to Russian tourists from history lessons at school. It was the Reichstag that became the very point above «i», putting which, the Soviet people consolidated their victory over fascism in the Second World War finally and irrevocably.
The building was built in the style of the Italian Renaissance at the end of the 19th century. You can climb to its rooftop observation deck and dome if you register in advance on the Bundestag website. It offers stunning views of Berlin, its parks and avenues.
Photos