Berlin is the capital of Germany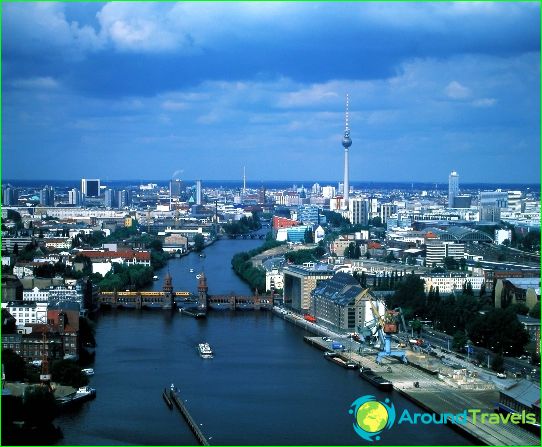 The capital of Germany, Berlin is a city where cleanliness comes first. The lawns of the city are practically sterile, so you can spend time sunbathing.
Brandenburg Gate
Together with the Berlin Wall and the Reichstag, the gate is also a symbol of the capital. They are two centuries old. The Brandenburg Gate is part of the wall that surrounded old Berlin. There were 18 of them in total, but to this day «survived» only one.
During the war, the architectural monument was badly damaged, and after restoration it found itself on the same border with the line, dividing the capital into western and eastern Berlin..
Reichstag
One of the most significant buildings in the capital. And during the days of Kaiser's Germany, and the reign of the Third Reich, and at the present time German legislators worked and made decisions here. The only exception was the name of the building - now it is the Bundestag.
In the late 90s of the last century, the Reichstag became probably the most important tourist attraction. Norman Foster, a famous British architect, covered the roof of the parliament with a glass dome. And now every visitor can admire the panorama of the capital.
Unter der Linden
Lindens were planted here back in 1647. They were supposed to delight the eyes of the king when he went hunting. Today the boulevard is a vibrant cocktail of glass and concrete, hotels, restaurants, old mansions and modern apartments. At the beginning of the boulevard the Russian Embassy is located. The architecture of the building harmoniously combines the Stalinist Empire style with the Prussian classicism.
Berlin Cathedral
It is quite easy to recognize the building - the 85-meter dome will help you with this. During the bombing, the spire was damaged and the cathedral remained decapitated for a long time. It was restored only in 1993.
The crypt is now also open to visitors, where you can see the crypt of the Hohenzollerns - a dynasty of monarchs who ruled the country for a long time. The building is surrounded by the Lustgarten garden, on the green lawns of which the townspeople love to spend time.
Alexanderplatz
During the existence of the GDR, Alexanderplatz was the main attraction of the capital. And the fountain «Friendship between nations» was the main background for photographs of numerous tourists.
Now on the square is the tallest building in Berlin - a TV tower, whose height is 368 meters. The ball on which the spire is located is assembled from metal pieces and shimmers in the rays of the sun.
Photos