New Year in Berlin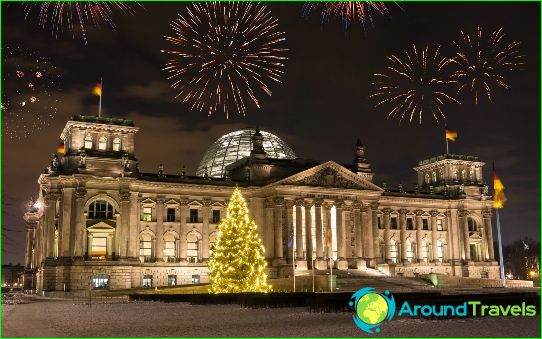 One of the most beautiful European capitals is a worthy winter vacation option. On New Year's Eve in Berlin, you can have great fun, indulge your soul over a glass of delicious German beer and visit the many attractions that belong to the most important foundation of the cultural heritage of mankind. In favor of choosing this option for a holiday - both a short flight and affordable prices for flights and hotels.
Gate to New Year
Berliners and guests of the city prefer to spend the festive night in different ways, However, many try to go out to the square in front of the Bradenburg gate in order to participate in the giant festive fireworks. Traditionally, the New Year in Berlin begins with fireworks and a festive concert, which always includes world-class stars..
At Potsdamer Platz, the best DJs in Europe invite you to take part in a costume party, guaranteeing great music and quality «space» sound. By the way, the option of meeting your favorite holiday in one of the nightclubs in the capital of Germany is a great chance to enjoy a variety of cocktails from international bartenders, panoramic views of Berlin at night and delicious dishes in the tradition of German cuisine.
Red with gold
The New Year's decoration of the streets of the German capital delights even those who are spoiled for travel. The city is dominated by red and gold. Accessories of these colors decorate houses and lampposts, gates and doors, shop windows and fluffy Christmas trees..
Illumination is not far behind, and every Christmas tree, counter or park bench sparkles with a myriad of colored lights. Another important attribute of the holiday is the smell of mulled wine, cinnamon rolls and hot chocolate from numerous coffee houses, bars and restaurants..
Photos of New Years celebration in Berlin