Athens viewpoints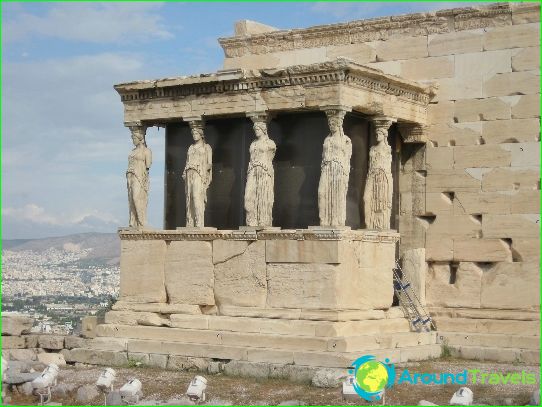 The observation platforms of Athens allow everyone who climbs there to admire the Plaka quarter, the Agora, the Parthenon, the Temple of Olympian Zeus and other significant objects from a different angle.
An overview of the natural viewpoints of Athens

Mount Lycabettus: since it is located at an altitude of more than 270 m above sea level, everyone from here can see the cities of the Aegean Sea basin, as well as admire the magnificent sunsets. At the foot of the mountain, tourists will stumble upon a pineapple grove, and at the top they can see the chapel of St. George, look into a restaurant or an outdoor theater (guests are pampered with Greek and international concerts). A funicular (a ticket will cost 6 euros) lifts visitors up the mountain, operating until midnight - 00:45. How to get there? At your service - metro (Megaro Moussikis station, line 3).
Observation deck of the Athenian Acropolis (hill, 156 m high): the observation deck can be found in the eastern part of the Acropolis - from here you can see Mount Lycabettus, Plaka area and other attractions of Athens. Adults can visit the Acropolis for 12 euros, and visitors under 18 years old - for 6 euros. You can get here by metro: the station you need is Acropolis.
Strefi Hill (located in the Exarcheia area): here you can not only admire the Acropolis, Lycabettus Hill and the Saronic Gulf, but also spend time on the football field or basketball court, attend concerts of alternative music.
Pnyx Hill: Located in the center of Athens, this hill offers the best views of the Acropolis and also allows guests to spend time in the park. To get here, it is recommended to take the metro: the nearest stations to the hill are Thissio and Monastiraki (line 1).
Philopappou Hill: tourists who climb here will discover an amazing panorama of Athens and the Acropolis. In addition, on the hill, they will find the Socrates' cave and the 2-tiered Philopappos monument. It should be noted that this place is suitable for those who do not like to enjoy the scenery together with large crowds of tourists. How to get there? The nearest tram stop is Fix (lines T4 and T5) and the metro station is Monastiraki (lines 1 and 3)
Galaxy Restaurant
The establishment is attractive because it is located on the roof of the Hilton Athens hotel (guests can enjoy beautiful views of Athens). In addition to a rich selection of sushi, the menu is replete with Mediterranean cuisine.
Address: 46 Vassilissis Sofias Avenue.
Allou Fun Park
Admire the Athenian beauty, and at the same time experience incredible sensations, vacationers will be able, "examining" several interesting attractions, among which stands out: the 40-meter Ferris Wheel; 72m StarFlyer carousel (rotates at 30 km / h). Ticket prices - 19-21 euros / full day.
How to get there? By buses No. 909, 803, 845, 703, 801 (Nekrotafeio stop) or by trolleybus No. 21 (Kan Kan stop).
Photos