Holidays in Greece in September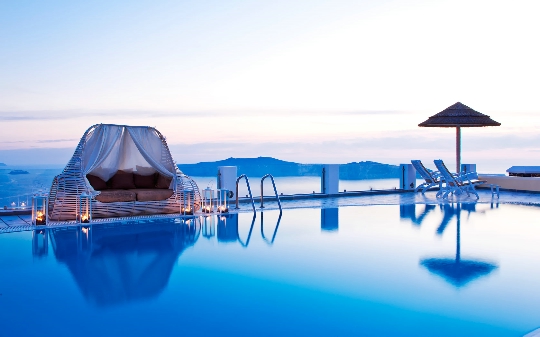 The beginning of the velvet season is still ahead, the first autumn month continues to delight the tourist with hot days filled with sun and a refreshing breeze. Holidays in Greece in September call for enjoying life, vacations, the silence of ancient towns and the beauty of seascapes. Active pastime is provided for tourists who love fun, discos, diving.
September weather conditions
Finally, tourists who come to Greece in early autumn begin to feel that summer is losing its hot positions. The air and sea temperatures begin to decrease gradually (+30 ° C and +24 ° C, respectively). The weather itself is becoming more affectionate towards locals and guests of the country, opening the Greek velvet season.
A drop in temperatures has a lightning speed effect on prices, which, following the temperature column, creep downward. Tourists choosing August benefit from both weather and price. Sunbathing and sea bathing continue to figure prominently in vacation plans, along with trips to Greek shrines..
Acquaintance with Kerkyra
Every tourist can set aside a couple of days and go to the island of Corfu, and you can always find time for this. Previously, the Greeks called all these places Kerkyra, now the name has been assigned to the main city of the island. It is small in size, but very cozy, reminiscent of old Italian towns. For those who know history, there is nothing strange or unusual about this. For four hundred years the Venetians ruled here, who could not have left traces of their presence in the main city of Corfu..
Getting to Kerkyra does not cause any difficulties for tourists, since the bus service is well developed, there are car rental opportunities. It is impossible to get lost in the city itself, but it is sometimes difficult to break away from sightseeing in Corfu even for travelers who have seen the sights. Walking along the most famous street, visiting fortresses and the Cathedral of St. Spyridon - this is only a small part of what you need to do in Kerkyra.
Minotaur Labyrinth Myths
To dispel ancient Greek legends or make a scientific discovery, you should go to the island of Crete and try to find the famous labyrinth. Moreover, he is promoted by the beautiful legend about the brave boy Theseus, who defeated the monster, but if it were not for the participation of the lovely beauty Ariadne in saving the hero, no one would have ever known about his feat. For myths about terrible monsters live much longer than these same monsters. The possible place of existence of the labyrinth of the Minotaur is in the Palace of Knossos, where you should go first..
The most beautiful corners of the world - Greece

Holiday photos in Greece