Islands of greece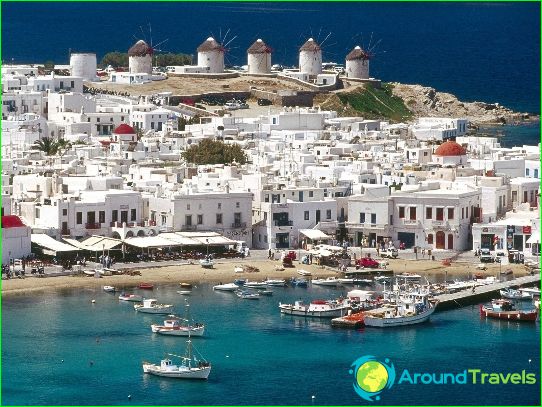 The Ionian, Mediterranean and Aegean Seas are the region where the islands of Greece are located. In total, over 1400 Greek islands are distinguished. The population lives on 227 islands. Each island of the country has a unique history, beautiful nature and monuments. The islands of Greece are attractive tourist destinations.
About 20% of the area of ​​this country is occupied by islands. Traditionally they are divided into groups: Sporades, Cyclades, Dodecanese, Ionian, Crete with nearby islets. Even on the smallest island, you can find an interesting attraction associated with Greek mythology and history. To this can be added the original flavor of each island: unique traditions, picturesque nature, architectural elements.
The most popular islands in Greece

North Aegean - located in the north of the Aegean Sea.
Ionian - located in the Ionian Sea in the west of the country. The most famous island of this group is Corfu..
Eastern Sporades - along the Turkish coast. Famous is the island of Lesvos.
Northern Sporades - the island of Evia is of interest.
Islands in the Saronic Gulf - located near Athens.
The Cyclades are the main archipelago in the Aegean Sea. On the island of Santorini, tourism is excellent. The island is of volcanic origin.
Dodecanese - along the western coast of Turkey. The most popular are the islands of Rhodes and Kos..
Crete is the largest Greek island, located in the southern part of the Aegean Sea.
Climatic conditions in the Greek islands
Greece is located in the Mediterranean mild climate zone. It has dry, hot summers and humid warm winters. The average air temperature in July is +32 degrees, and in January it is +10 degrees. Already in May, people open the swimming season, ending in October. The islands of Greece are especially beautiful in spring when they are covered with blooming greenery. For trips to the historical places of the country, it is best to choose May and April. Suitable weather for a beach holiday is set in June.
The country's climate can be conditionally divided into several regions. Mainland Greece has climatic conditions similar to those of the Balkans. Summers are humid and hot there, and winters are cold. Crete, the eastern territories of the Peloponnese, Attica, the Dodecanese and the Cyclades are regions where the Mediterranean climate prevails. Hot time is easiest to transfer on the islands, as a refreshing and light breeze blows from the sea.
When is the best time to visit the islands of Greece
Tourists are advised to plan their trips in fall, summer and spring. In winter, the tourist infrastructure on the islands is not very active. Many entertainment venues are closed and transport flights are canceled. The beginning of the season here is considered to be April. The best beach holiday possible from the beginning of June.
Photos of the Greek Islands