Transport in Greece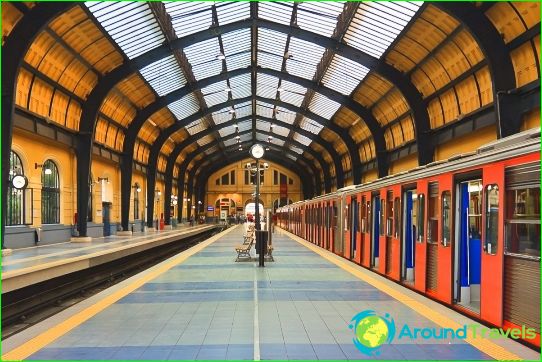 Transport in Greece is represented by a fairly developed network of various communications.
The main modes of transport in Greece

Buses: The first run leaves at 05:30 and the last leaves at 00:00. To stop the bus, you need to give him a signal by raising your hand (you need to enter through the front door). In addition to city buses, intercity buses are available to travelers in Greece. They are represented by 2 bus lines - blue, which make stops in large cities, and green, stopping at other places, including small villages..
Metro: In the Athens metro (opening hours: 05: 00-00: 30) you can not only cover the distance to your destination, but also admire the archaeological finds and their copies on display in the metro lobbies. Tickets purchased on the metro give the right to use other public transport (valid for 90 minutes).
Trains: You can reach major cities located on the mainland by rail. For travel, it is better to use IC or ICE trains - they are distinguished by speed and reliability.
Ferries and boats: when traveling on water, it is worth considering that before arriving at the main port, some ferries make stops on small islands - check your time. To save time, it is worth using the services of high-speed enclosed boats - "flying dolphins" (they run between the islands).
Taxi
Since it is not always possible to catch a taxi on the street, it is better to call it by phone or go in search of it at special parking lots (central streets, port, station). The fare is paid by the meter + boarding tax. It is worth noting that during a taxi ride, the driver can add more passengers. But don't worry - it won't affect the cost of your trip..
Car rent
The country has developed auto tourism: there are many rental companies and a minimum of requirements are imposed on drivers (often companies do not require a deposit or a credit card). So, in a rented car you will be able to explore the Greek ruins, architectural monuments and nature reserves..
It should be noted that in settlements it is allowed to move at a speed of 50 km / h, on highways - no more than 90 km / h, on highways - up to 120 km / h. As for the signs, on highways and in cities they are duplicated in English, and on local roads and on the island of Crete - only in Greek..
Tourists are not recommended to drive a rented car around Athens due to the chaotic traffic, constant traffic jams and difficulties with parking in the center. If you are planning to travel in mountainous regions, then for this purpose it is advisable to rent a four-wheel drive car, and a compact compact car is perfect for traveling around cities..
In addition to a car, you can rent a motorcycle or scooter, but it is worth considering that riding without a helmet is prohibited. It is also important to be very careful on the road, as many Greeks prefer to drive fast..
You can move around Greece in all kinds of vehicles, as well as on donkeys (for example, along narrow streets that go up sharply).
Photos