Hong Kong beaches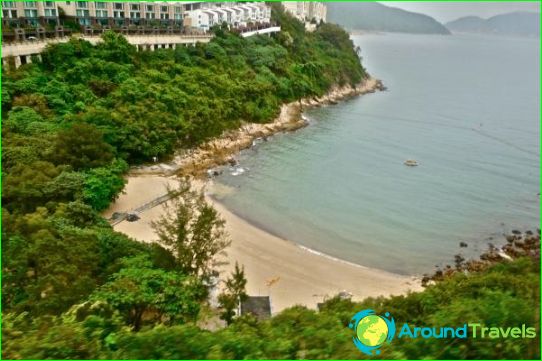 Hong Kong is not a beach resort, although it is surrounded on all sides by water. There are no coastal hotels and other attributes usual for beach places in the city. However, every year there are many people, including those from Russia, to visit the beaches of Hong Kong. It is better to plan a trip for the summer, as in winter the temperature rises only up to +13 Celsius. Most of the beaches are protected by mountains, which guarantees that there are no big waves and a calm swim. Almost all beaches, with a few exceptions, are declared public. There are about 45 beaches in Hong Kong.
Most attractive beaches

Hong Kong's first artificial beach, Golden Beach. The beach area is approximately 80 thousand square meters. m. It is unique in that there is a volleyball court on its territory. There are many shops, hotels, restaurants around the beach.
The first-class beach Turtle Cove attracts visitors with emerald waters off the coast. To avoid shark attacks from the sea, a special net is provided. The entire beach area is covered with fine sand, pleasant to the touch. Despite the excellent conditions for vacationers (changing cabins, playgrounds), the beach also has a significant drawback: literally 50 meters from it there is a noisy highway.
Big Wave Bay Beach is located in the southeastern part of Hong Kong. It has a reputation for surfing, but the waves of the right height are not always there. The rest of the time it is actively visited by Hong Kongers and visitors. There is no shortage of showers, changing rooms and toilets on the beach. It is a stone's throw from it to chic shopping centers, parking.
Repulse Bay, the most famous large beach in Hong Kong, is surrounded by hotels, large supermarkets and cafes. There is a barbecue area, sports games. Not so long ago, the beach underwent reconstruction and is again ready to accept everyone..
The longest beach in Hong Kong is Cheung Sha (Lantau Island). It stretches for 3 km along the sea, it is quite landscaped, but on weekends it can be filled with locals.
Silvermine Bay Beach is located next to Disneyland. That is why couples with children are so often found on this beach. In terms of water purity, it can be called one of the safest beaches in Hong Kong. Many eateries and bars offer their services.
For the best sandy beaches in Hong Kong to leave only good impressions, you should not visit the beach after a rainstorm, when it is littered. It is also not recommended to sunbathe in the nude or topless..
Pictures of Hong Kong beaches