Where to eat in Hong Kong?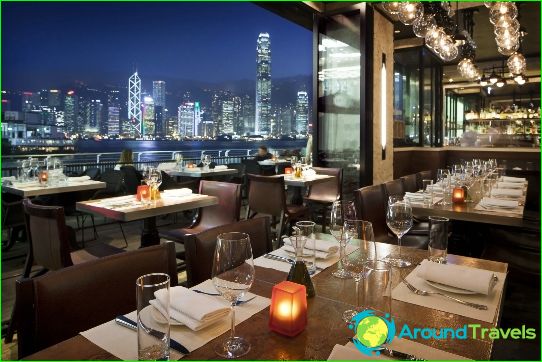 Don't worry about where to eat in Hong Kong. You can eat here in various cafes, restaurants, food courts, street tents ... It is worth noting that there are many establishments of various levels in Hong Kong serving traditional Chinese dishes, in particular, Cantonese, Sichuan, Shanghai cuisines.
Where to eat in Hong Kong inexpensively?
You can eat on a budget in the Chinese restaurant Delicious Kitchen - here you can treat yourself to pork chops with rice, chicken baked with lemon and sesame seeds, various soups, tofu with hot and sweet sauce, lime mousse, caramel bananas.
If you are a lover of Vietnamese food, inexpensive prices and delicious food await you at Nha Trang. Here it is recommended to try papaya salad, pancakes with all kinds of fillings and herbs, casserole with vegetables and tofu.
You can get an inexpensive snack at Max Noodle - this place specializes in noodle dishes. Here you should try shrimp noodles, stewed vegetables with shrimp sauce, Chinese ginger soup, clear chili noodles.
In Hong Kong self-service establishments (principle "Buffet") you will have the opportunity to taste all kinds of dishes at reasonable prices. So, visiting Caf Too, you can taste pizza, sushi, chicken curry and other dishes..
Where to eat in Hong Kong delicious?

Jumbo Kingdom: This floating restaurant is a 3-story ship serving classic Cantonese cuisine, seafood and modern fusion food. In this place it is recommended to try turtle soup, drunken shrimp, steamed bass, lobster salad. If you feel like drinking tea after dinner, you will be invited to move to the tea garden.
Glasshouse: In this restaurant, located on the Braemar hill, you will be able to hide from the bustle of the city and taste Tom Yum Kung (a signature soup with meatballs of various types of fish in a complex broth of mussels, shrimp and scallops). It also serves excellent grilled seafood and vegetables..
Cuisine Cuisine: this restaurant, decorated in an original style, offers an equally extravagant menu. Here you can order shrimp with crab meat and black truffles (the dish is decorated with black caviar and served with pumpkin soup).
Rainbow SeaFood Restaurant: This establishment has aquariums that are home to marine life. At your request, fish and other mammals will be caught with a butterfly net and cooked in any way you suggest. So, here you can enjoy fried lobster, all kinds of shellfish, rainbow perch.

Hong Kong food tours
During such an excursion, a walk will be organized for you to local shops and restaurants, where you will be able to taste traditional dishes. So, you can go on a food tour of the Sham Shui Po area - here you can visit a soy shop, a shop with traditional Chinese puddings, a Legendary Bakery, Braised Goose and Oodles of Noodles restaurants..
You can easily find Chinese food outlets anywhere in Hong Kong. And if you like international cuisine, then this is not a problem - you will find everything here: both European restaurants and chain establishments such as KFC and McDonalds..
Photos