Railways of Hungary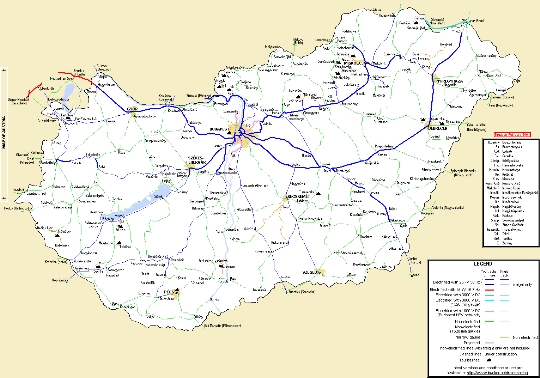 Traveling around Hungary by train is much more convenient than traveling by car or plane. The railway network is owned by the state transport company MÁV. Railways of Hungary connect big cities: Budapest, Debrecen, Miskolc, Szentendre, etc..
Railway transport in this country is very well developed. Hungary has always been considered the center of transport routes. This state is located in Eastern Europe and has borders with Austria, Slovenia, Slovakia, Romania, Ukraine and other countries. Hungary is connected with neighboring states by a network of international lines.
Features of the railway network
The largest transport hub is Budapest. Many flights connect in Debrecen. Train tickets are sold at train station ticket offices and on the Internet. International trains run regularly throughout the country. The most luxurious train to Hungary is the Railjet. Trains of this type pick up speed up to 230 km / h. You can get to Budapest from Vienna in three hours, paying about 13 euros for a ticket (a seat in the second class). The point of arrival of trains is the Budapest Keleti (Vostochny) station, where trains of international lines arrive, as well as some national trains.
Different trains run in urban and suburban areas. Suburban lines are designated H V. Comfortable trains serve international and domestic routes. Train travel is available, and discounts are provided for certain categories of passengers.
Buying tickets
The cost of the trip depends on the route and on the conditions on the train. The prices can be seen on the website www.mav-start.hu. In passenger trains, a division into two classes is used. First class tickets cost 50% more than second class tickets. The country has intercity, express, regular and fast trains. The base cost is on all trains. Surcharges to it are added for the train category.
The most expensive train is the one that runs from Budapest to Pecs, covering 228 km in almost 3 hours. Old trains are also moving through Hungary. But all trains are clean and comfortable. The carriages are obligatory equipped with sanitary facilities. Controllers work on all trains. Ticket checks take place at and after boarding, as well as after transfer.
You can buy a train ticket at the train station ticket office. Train timetables are available on the official website of the Hungarian Railways - www.mavcsoport.hu.
Photos