Transport in Hungary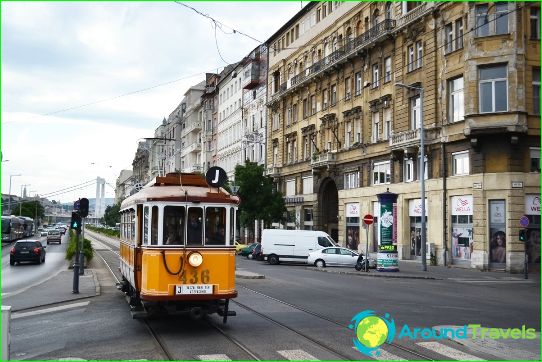 Transport in Hungary is famous for its developed infrastructure, thanks to which excellent conditions have been created for air, rail and road transport.
The main types of transport in Hungary:
- Public transport: it is represented by trolleybuses, trams, buses (in the capital, night buses with the letter "E" go on flights). And in Budapest, you will meet the metro, the funicular (being at the walls of the Buda Castle, it lifts everyone to the walls) and the cable car (you can use it to climb Mount Janos to admire Budapest).
It should be borne in mind that city buses (to get off, you need to press the button above the door) are colored blue, and express buses are colored red (they do not stop at all stops).
To pay for travel, you can purchase a ticket valid for a specific vehicle or for all at once. However, it is more profitable to get tickets valid for 1, 3, 5 days or the Budapest Card.
For tickets, you should go to newsstands, metro ticket offices, and the post office. You can also pick them up from ticket machines..
- Train connections: trains are comfortable and fast to travel, and they are never crowded.
The main railway junction of the country is Budapest, from which various branches diverge in all directions. It should be noted that discounts on tickets are provided for groups of travelers, students, pensioners, children. In addition, in order to save money, you can get travel tickets..
Are you going to travel the whole country by rail? It makes sense to buy a timetable with dubbing in English.
- Water transport: tourists are offered a boat ride on the Danube River and Lake Balaton.
On cruise ships you can travel not only in Hungary, but also get to neighboring countries (Croatia, Austria, Bulgaria), and excursion trips are organized on pleasure boats.
Taxi
It is advisable to negotiate the price with taxi drivers in advance, since they often inflate prices, taking advantage of the fact that foreigners do not know the city.
It is best to resort to the services of state taxis - their numbers are painted in yellow.
Car rent
To rent a car, you need to have an IDL and a credit card (an alternative is to pay a deposit of $ 300).
In the center of Budapest, it is advisable to travel by public transport, since you cannot drive around the city center, and there are very high fines for parking here..
If you plan to travel on roads outside settlements, regardless of the time of day, you must drive with the headlights on (low beam).
Since some roads are toll roads, you will need to get a special sticker sold at the gas station..
Thanks to the well-developed urban and intercity transport, traveling in Hungary will bring you a lot of joy.
Photos