Holidays in Indonesia in October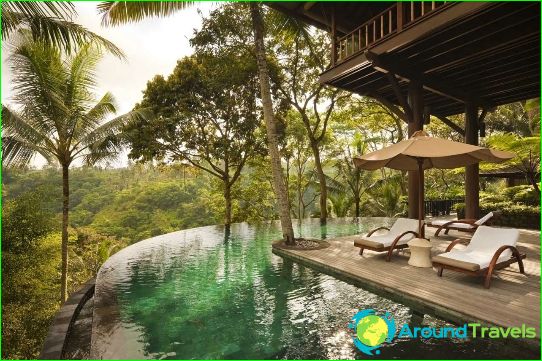 October is one of the most visited months of the year for Indonesia. Comfortable weather attracts tourists from all over the world. So what weather conditions are set in Indonesia in October?
During the day, the temperature can reach +29 - 31 degrees Celsius. However, the exact figure depends on the region of Indonesia. It should be noted that it is coldest in the mountainous regions. At night in Indonesia it gets colder to about +24 degrees. The water near the coast of Indonesia warms up to + 27 ... 29C, depending on the area. This way, you can be sure that bathing will be enjoyable and healthy. If you wish, you can go surfing and diving, because the best conditions are established for this.
Among the disadvantages of the weather, it is necessary to note the high level of humidity due to the tropical climate in Indonesia. Be prepared for October being the last month of the dry season, so it represents the last opportunity to enjoy your holiday.
Holidays and festivals in Indonesia in October
Holidays in Indonesia in October allow you not only to soak up the beach, enjoying the picturesque views, but also to take care of interesting cultural activities. What events deserve your attention?
In some years, the Rain Festival, which is traditionally held in Lombok, falls in October. The rain festival is a strange event. People get together, and then they start throwing ketupats at each other, which are boiled rice wrapped in palm leaves. Throwing ketupatas is believed to cause rain and contribute to a good harvest..
In mid-October, Ubud hosts the Literary Festival, which is attended by writers from around the world. The festival includes lectures, seminars, readings, a carnival of prose and poetry, and exhibitions of different themes. This event allows to attract increased attention of people to the culture of Indonesia. In addition, the Literary Festival promotes the establishment of creative contact between writers from Asia and the West..
In October, a carnival is held in Kuta, which includes performances by musical groups, surfer competitions, and flying kites..
In Indonesia, there are many public holidays in October. On the first day, it is customary to celebrate the Day of Protection of Punch Force, the fifth is the Day of the Bali Armed Forces, the twenty-eighth is the Day of the Oath of Youth.
Enjoy an unforgettable trip to Indonesia in October!
Holidays in Indonesia

Holiday photos in Indonesia