Saint Helena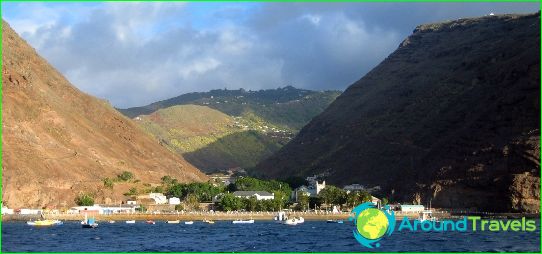 There is a small piece of land in the Atlantic Ocean, which is designated as Saint Helena. It is 2800 km away from the African continent and is considered part of the overseas territory of Great Britain. Saint Helena was first discovered by João da Nova, a Portuguese navigator. A small area on the island is the possession of France - the place where Napoleon Bonaparte was sent.
Today the island is home to approximately 4,000 people. The population is represented by Sentlens, who are descendants of immigrants from Great Britain, Holland, Portugal, India and Africa. There is no airport on the island, so you can only get here by sea from England or Cape Town.
Features of the landscape
Saint Helena has a volcanic relief. It represents the summit of an ancient volcano, so the landscape is elevated. The base of this huge volcano is 130 km across. The highest point of the island is considered to be Diana Peak, reaching 818 m. There are numerous plateaus around it, turning into gorges and valleys. The upper levels of the mountains are covered with tropical plants. Protected areas are located there. Closer to the ocean, the tropics give way to plateaus and rocks. The coastal area is a rocky area with high cliffs. There are coves around the island, access to which is possible only from the sea. Jamestown, the capital of the island, is located in a valley sandwiched between the slopes of the mountains.
Flora and fauna
A unique natural world has formed on the island of Saint Helena, which is associated with the isolation of the island. Previously, all of its territory was covered with dense forests. Scientists have recorded over 200 fern-like and flowering plants that grew only on the island. There were no herbivores or carnivores there. Saint Helena was rich in plants from the Malvov family: black bonsai and mahogany. The wood of these trees was considered very valuable because of its high strength. Therefore, the trees were completely destroyed by people..
Climatic conditions
The island is located in the maritime tropical climate zone. In January, the average air temperature is +19 degrees, and in July it is +30 degrees. In winter, the temperature does not drop below +13 degrees. The island is dominated by oceanic humid air. There are constant winds and fogs. Therefore, the pod seems to be cooler than it actually is. The wettest months of the year are January and December.
Photos of Saint Helena