What to do in Eilat?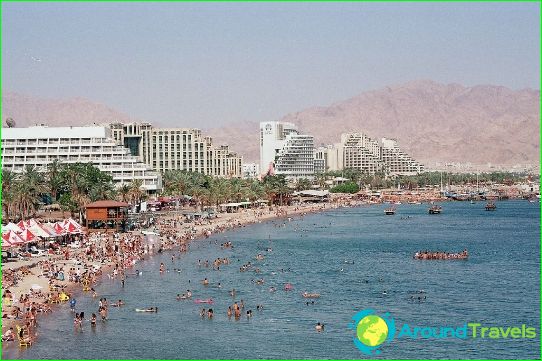 Eilat is a prestigious Israeli resort famous for its beautiful beaches, all kinds of water activities, themed hotels (some of them are stylized as Thai villages and oriental castles).
What to do in Eilat?
Visit the marine reserve - Dolphin Reef (here you can swim and take pictures with cute dolphins);
Go diving on Coral Island (here, in the depths of the sea, you can see all kinds of fish, and on the island itself - the ruins of an ancient castle built in the XII century by the Crusaders);
Ride camels and horses at the Texas Ranch (5 minutes drive from Eilat);
Visit the Ostrich Farm, located in the southern part of the resort (here you can not only look at ostriches, but also ride them);
Visit the amusement park "King city eilat" (the park invites its guests to ride interesting attractions such as the Corridor of Fear and the Cave of Illusions with crooked mirrors and labyrinths).
What to do in Eilat?
You should start your acquaintance with Eilat with a walk along the Embankment. This pedestrian street is home to shops, souvenir shops, cafes and restaurants. In the evening, bars and nightclubs here open their doors to fans of incendiary discos..
Those who come to Eilat will be able to visit the sights of the city and the surrounding area - the Ornithological Center, which is home to many birds of prey, the Monastery of St. Catherine, the ancient fortress of Masada, and the Khaybar nature reserve. Fans of active excursions can go on a yacht trip along the Gulf of Eilat or on a cruise that involves a stop on an Egyptian coral island..
Fans of active beach recreation should definitely visit Eilat Coral Beach: at your service - an interesting underwater excursion, signing up for which you can admire unique corals and exotic fish. On the same beach you can ride a jet ski or pedal boat. And on the North Beach you can sunbathe, surf and other water sports.
Eilat offers enticing diving opportunities, with places for beginners and advanced divers alike. Explore the depths of the Red Sea, home to numerous species of fish and coral.
Eilat is a duty-free hub, so you shouldn't leave without shopping. Shopping should go to the malls "Ha-Yam" (it contains more than 120 stores) and "BIG" (there are more than 30 boutiques in it).
Those who come to Eilat can soak up the local beaches, go diving, kite and windsurfing, go on a desert safari in a jeep or camel.
Photos of where to go in Eilat