Prices in Israel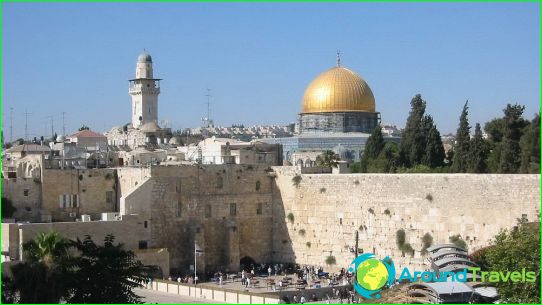 Prices in Israel seem to be quite high compared to neighboring countries, but moderate when compared to European countries (they are on the same level as in Spain, Greece and Portugal).
Shopping and souvenirs
Arriving for shopping in Israel, you will not be disappointed: here in any, even the smallest city, there are many shops where you can get clothes, shoes, cosmetics, and appliances. In Israel, you can buy diamond jewelry at the branches of the Diamond Exchange in Tel Aviv, Eilat, Netanya, Jerusalem and other cities..
It is worth bringing from Israel:
souvenirs with a religious bias (pilgrimage crosses from Jerusalem, test tubes with holy water and earth), silver jewelry, silvered paintings, cosmetics based on minerals and salts of the Dead Sea, ceramics;
wine, coffee, olive oil, spice sets.
In Israel, you can buy Israeli silk tablecloths of various colors for about $ 40, cosmetics based on Dead Sea mud and salts - from $ 10, minors (candlesticks with 7 lamps) - from $ 11, hamsu (a talisman that protects against the evil eye) - from $ 5.5, silver jewelry - from $ 42, Israeli wine - from $ 14.
Tours
Going on an excursion to Hamat Gader, you can swim in the hot springs (they are located at the foot of the Golan Heights), as well as visit a crocodile farm. The approximate cost of the excursion is $ 70.
Paying $ 60 for the excursion "Jerusalem Christian", you will visit the Garden of Gethsemane for a walk, visit the Upper Room of the Last Supper, visit the Church of the Holy Sepulcher.
Entertainment
The cost of entertainment programs: watching a movie in a cinema will cost you $ 9, an entrance ticket to the Underwater Observatory in Eilat - $ 22 (a child ticket costs about $ 19), entrance to a safari zoo in Ramat Gan - $ 16.
Transport
Traveling around Israeli cities is more profitable by bus: on average, you will pay $ 1 for travel on a city bus, and $ 4 on an international bus. For about $ 25, you can travel all over Israel from north to south with several transfers. And for a taxi ride for a short distance, you will pay about $ 5-10.
If you like exploring cities in a rented car, then you should know that renting will cost a lot - about $ 50 per day, excluding the cost of gasoline. In addition, the country has restrictions on the distance that can be traveled in 1 day..
Your daily spending on holidays in Israel will be $ 65-90 if you eat in good cafes and rent a room in a mid-range hotel. And for a more comfortable stay, you will have to draw up your vacation budget at the rate of $ 120-130 per day for 1 person.
Israel - promo video

Photos