Tel Aviv shops and malls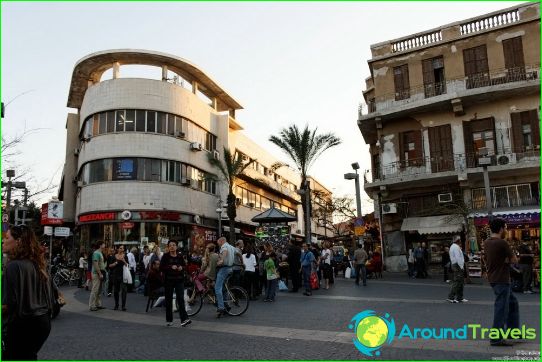 Tel Aviv has an extensive retail network. In recent years, a bunch of shopping centers, or, as they are called in Israel, canyons, into which goods from all over the world are brought, have grown up in it. However, shopping is not the main purpose of visiting Tel Aviv. People come here primarily for the sake of sandy beaches, an extensive excursion program, and highly developed modern medicine. And after fulfilling the main goals of the trip with a sense of accomplishment, it's always a pleasure to go shopping..
Popular retail outlets

«Ralph Lauren», «Gucci», «Yves saint laurent», «Chanel», «Versace» - not a complete list of boutiques on Kikar Hamedina square. Chic, gloss and glamor reign here. Here are the latest collections of world fashion houses. Eye-catching department store of Israeli designer, singer and composer Nicole Raidman - «Madame de pompadour». Both the store's luxurious facade and its contents are Haute Couture. Here you can choose from Jean Paul Gaultier, Vivienne Westwood, La Perla, Cacharel, Alexander McQueen, Thierry Mugler or Valentin Yudashkin. The list of shoe brands is no less representative. Needless to say, this place is for wealthy people. Another of the many interesting boutiques in this square is «Get Maximum» - a jewelry store exclusively for representatives of the strong half of humanity. Often, recognizable faces of domestic oligarchs or their girlfriends flash across the square. In the center of the square there is a shady park that gives peace and invigorating coolness to tired customers.
All references to shopping and entertainment centers in Tel Aviv are not complete without «Azrieli towers». In one of the three towers of this famous skyscraper in Israel, there is a mall, in which there are about 200 shops with souvenirs, products of local factories and popular world brands of the middle price segment. The number of restaurants here is so great that some would consider their number to be equal to the number of stores. The mall itself occupies three lower floors. And on the 49th floor of the skyscraper there is an observation deck, from which, for a fee, curious people enjoy the panorama of the city..
The canyon is also popular «Ramat Aviv», where fashion shows, music concerts with live music, unusual exhibitions, for example, plastic dresses or other equally interesting materials are held.
The Carmel Market is located in the city center. Everything is mixed here: food, souvenirs, modern electronics, used musical instruments, second-hand clothes and new things from brand collections. The market is crossed by a street with an exhibition-fair of works of fine and applied arts.
Another fair with authentic works of Israeli craftsmen is located on st. Nahlat Binyamin, open on Tuesdays and Fridays.
On the same Tuesdays and Fridays, a flea market opens on Dizengoff Square, where, if you're lucky, you can find real rarities from the depths of time.
Photos of Tel Aviv shops