Tours to Naples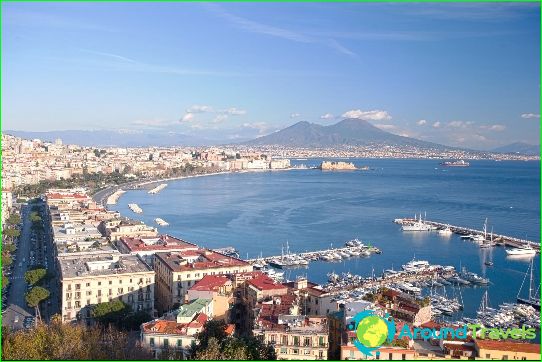 This sunny city on the shores of the Mediterranean Sea is the birthplace of the famous romance, pizza and brave and strong-minded people. It is full of charm and evergreen groves, and under its pearly clouds it seems that misfortune and adversity will never come to this blessed land. Going on tours to Naples, anyone can feel this boundless feeling of freedom and celebration, which helps its residents to accept each new day with joy and delight..
"These groves by the bay, these flexible olives ..."
Naples is the third largest city in the country after the capital and Milan. It is a large seaport, through which thousands of tons of various cargo pass every day. The port gives Naples a special charm: the fish market is bustling here, and the coastal restaurants and cafes prepare delicious seafood dishes.
All photos taken during the tour to Naples show Mount Vesuvius. Its peculiarity lies in the fact that Vesuvius is an active volcano, the only one in continental Europe. It is considered dangerous, and its eruptions have destroyed the surroundings more than once..
The beauty of the port city has become proverbial. It was about Naples that the phrase "See and Die" was first pronounced, and only then it was remade for Paris and other European capitals.
Briefly about the important
The hottest month in these latitudes is August. Thermometers at the height of summer often show +40, which, with practically no precipitation, does not look very comfortable. The best time for a tour to Naples is April-May or October, when the streets are comfortable for walking and there are refreshing rains in the evenings.
Naples is the birthplace of the football club "Napoli", visiting the games of which is an excellent reason for the strong half of humanity to go to the capital of the region of Campania.
It is during a tour to Naples that the traveler gets the opportunity to taste real Italian pizza. It once invented "Marinara" and "Margherita", which have become classics of the genre in any pizzeria in every country..
The historical center of the city received the status of a UNESCO World Heritage Site at the end of the 20th century.
Despite the goodwill and hospitality of the Neapolitans, the city leads the way in the crime news reports. Walking the streets or dining in a cafe, do not leave bags, wallets and phones unattended..
The best panoramic photos during a tour to Naples should be taken from the observation deck on Vomero Hill near the Certosa di San Martino. The monastery itself, where the National Museum is now open, and the adjacent 14th century fortress are worth visiting..
Photos