Shops and boutiques in Verona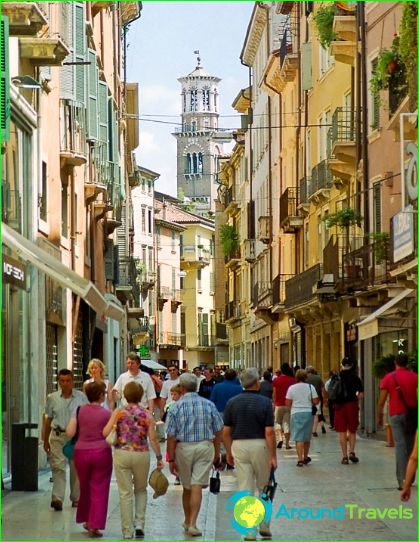 Verona is a town in the north-east of Italy, included in the list of UNESCO World Heritage Sites. Travelers come here to get acquainted with architectural monuments, churches, palaces of different eras from Ancient Rome to the Renaissance. Tourists tend to visit museums and places associated with Shakespeare's famous play about Romeo and Juliet - Romeo's house, Juliet's courtyard and tomb.
If there is time left after a busy cultural program, then you can go shopping. Shopping in Verona can be very enjoyable. Of course, this city cannot be called a shopping mecca, but the things of Italian designers bought here are cheaper than in their hometown, and they raise wonderful memories in the soul..
Shopping streets
In Verona itself, there are practically no large shopping centers, the format of its stores is mono-boutiques on several narrow streets.
The pedestrianized Via Mazzini runs from the Arena di Verona to the intersection with Via Cappello. The street is narrow and picturesque, lined with marble tiles, decorated with many trellises. It is full of both shops and tourists. Therefore, in order to explore the contents of boutiques, it is better to be on it in the morning before the peak of attendance. Many luxury Italian and European brands are represented here: Mont Blanc, Benetton, Prada, Louis Vuitton, Duca D'Aosta, Swarowski, Bulgari, Ferre, Gucci, Elena Mirò, MaxMara e Sisley. Their prices are appropriate, but lower than in Russia. There are stores for an average wallet, where it is quite possible to pick up clothes, leather goods or underwear..
Via Cappello it is easy to get to Piazza delle Erbe, where it is pleasant to sit in one of the restaurants and rest your feet. There are many street stalls with souvenirs in the square. Corso Porta Borsari is a street parallel to Via Mazzini. It is not so crowded, but no less interesting for shopping, and the sellers demand a price slightly lower than on Via Mazzini.
Via Pelliccial - the street is nice with many boutiques of Italian designers unknown to the general public. It is impossible to win a certain amount on the brand in such shops, so the prices are more than reasonable.
Corso Santa Anastasia attracts lovers of modern art and antiques.
Photos of Verona shops