Kiribati islands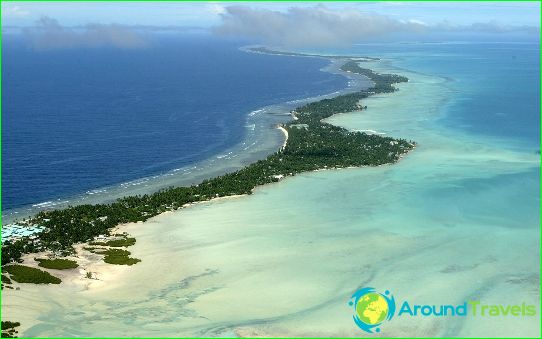 The island state of the Republic of Kiribati is located in the Pacific Ocean. It is located in Polynesia and Micronesia, and borders the waters of the Federated States of Micronesia, the Marshall Islands, Nauru, Tuvalu, Tokelau, the Solomon Islands and several other territorial entities. The coastal strip of the state stretches for 1143 km. The islands of Kiribati are atolls. Banaba Island is considered an elevated atoll..
Atolls were formed as a result of the submersion of volcanic islands. Their surface was gradually covered with corals. Over time, a barrier reef formed. Today, the country includes 33 atolls, of which only 13 are inhabited. In the Republic of Kiribati, the Gilbert Archipelago (16 atolls and islands), Banaba Island, the Phoenix Archipelago (8 islands) and the Line Archipelago (8 islands) are distinguished. The state occupies 1 elevated atoll and 32 low-lying ones. The Kiribati Islands have a total area of ​​about 812.3 square meters. km. The population of the country is just over 103 thousand people. The capital is the city of South Tarawa.
The main features of the climate
Almost all of the islands of Kiribati are in the dry oceanic equatorial climate. In years, only 2 seasons are distinguished: the first lasts from October to March, the second - from April to September. The first season, Aumeang, is characterized by higher humidity. The second, Aumaiaki, is considered dry. The threat to the island nation is posed by global warming, causing a rise in the level of the World Ocean. Low-lying land areas can be submerged.
Features of the natural world
Due to their small size, porous soils and low altitude, there are no rivers on the islands. Water, which comes in the form of heavy rain, seeps through the soil and forms a lens. This liquid has a salty taste. The local population extracts it by digging wells. Water is also collected from the leaves of the coconut tree. There are no other sources of fresh water on the islands. Droughts occur periodically there, which pose a threat to agriculture..
From November to April, there is a danger of tornadoes and typhoons. Strong winds bring showers with them. The flora of the islands of Kiribati is represented mainly by plants such as pandanus, papaya and breadfruit. Natural vegetation has been almost completely replaced by coconut palms. The fauna of the atolls is poor. In addition to seabirds and rats, there are no more representatives of the fauna in the country. But the underwater world of the islands is very diverse and rich. The coastal area has all kinds of fish, lobsters, corals, pearls and other inhabitants.
Photos