Rest in Bishkek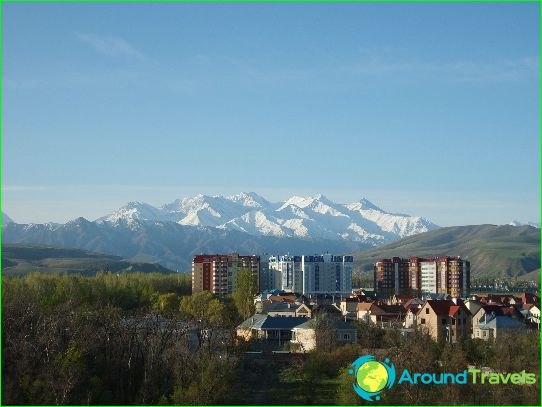 Rest in Bishkek is accommodation in hotels of various categories (from budget "kopeck piece" to upscale five-star hotels), visits to natural parks in the vicinity, as well as museums that store ancient artifacts in their halls.
The main types of recreation in Bishkek

Excursion: on excursions you will be offered to walk through the historical and cultural zone "Burana" (you will see stone idols, Burana Tower, ancient rock carvings), visit the tourist complex "Kyrgyz ayly" (you will visit national yurts and taste Kyrgyz cuisine), the Erkindik gallery, the Frunze house-museum, examine the State flagpole (it is worth looking at the changing of the guard, which takes place every hour from 07:00 to 18:00), the Resurrection Cathedral and the sculpture complex "Manas", take a walk in Dubovoy or Kemal Ataturk park, go to the ancient settlement of Saimaluu-tash. By contacting the tour desk, connoisseurs of beautiful landscapes will visit the Ala-Archa gorge and Lake Issyk-Kul, and those wishing to heal can relax at the balneological resort of Issyk-Ata.
Active: tourists are invited to go on a trekking tour to the Tien Shan mountains, play paintball, take part in laser battles, do curling, go-karting or mountaineering, jump with a parachute.
Beach: everyone who cannot imagine spending a vacation without a beach holiday can go to artificial reservoirs - you can swim, sunbathe, ride boats and catamarans on the Ala-Archinsky reservoir, Pionerskoye and Komsomolskoye lakes.
Prices for tours to Bishkek
It is best to come to rest in the capital of Kyrgyzstan in May-September. Since this is the high season, the prices for tours at this time increase, but not much - by about 20%. Those wishing to save even more and relax in comfortable weather conditions should go to Bishkek in the spring or autumn months..
On a note!
On vacation, you can not do without sunscreen, light summer clothes and warm clothes for climbing the mountains, a wide-brimmed hat and insect repellent (put it all in your suitcase).
Since the Kyrgyz are a rather poor people, you should carefully monitor your belongings and wallet. For the same reason, prices for tourists are deliberately overstated, so you can safely bargain.
It is more convenient to get around the city by minibuses and taxis (low rates). Taxi can be called by phone or "catch" on the street (if you wish, you can rent a car with a driver).
Memorable gifts from Bishkek can be items of national costume, horse sausage, kumis, cognac, nuts, felt carpet, clay and straw products, paintings by Kyrgyz artists, silver jewelry, leather products.
Photos of rest in Bishkek