Rest in Jurmala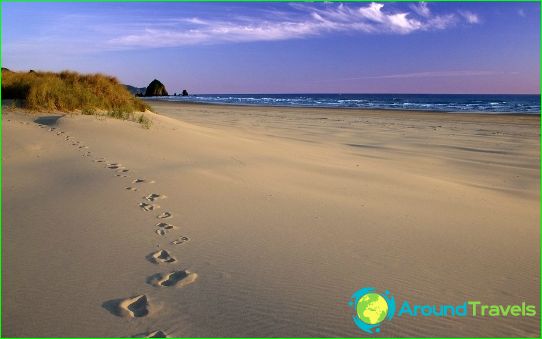 Rest in Jurmala is a great opportunity to heal, relax on a sandy beach, visit festivals "Jurmala-Shanson" and "Voting KiViN", admire the picturesque nature.
The main types of recreation in Jurmala
Excursion: as part of excursion tours you will see the Church of St. Prince Vladimir, Brezhnev's dacha, visit the Rainis and Aspazija dacha-museum, and the Jurmala City Museum. For those wishing to admire the wildlife and observe rare animals, trips to the Ragakapa Natural Park are organized. For ecotourism lovers, trips to the Kemeri National Park are organized (in addition to rare plants and trees, there are lakes and recreation areas with fountains).
Active: tourists can ride a horse, play tennis on the courts, have fun in the water park "Nemo", in the water amusement park "Livu Akvaparks" (there are thematic zones for children of different ages), a night club "Havana Lounge Club", and also go kiting.
Wellness: health resorts and balneological centers actively use healing mud and waters from mineral springs, as well as local doctors suggest that patients go for walks, during which they can breathe the air saturated with the healing pine scent (all developed therapeutic and preventive programs are aimed at those suffering from cardio - vascular, diseases of the respiratory system and musculoskeletal system).
Beachfront: despite the fact that all local beaches are free, you have to pay to use beach equipment. Beach-goers should pay attention to Majori beach - it is well equipped: here you can have a snack in cafes and bars, rent a jet ski, windsurfing equipment. Young people should take a closer look at the beach in the Lielupe area: there is a sports complex and a yacht club, and nearby there are sports grounds and tennis courts.
Prices for tours to Jurmala
The best time to travel to Jurmala is the summer months, September. The increase in the cost of tours to Jurmala (by about 1.5 times) is observed in June-August, as well as for the New Year and Christmas holidays (at this time, you will have a variety of entertainment programs). To save money, it makes sense to look for last-minute tours to Jurmala, which are often carried out by tour operators in spring and autumn..
On a note!
It is worth considering that in restaurants in Jurmala, as a rule, the service charge is included in the bill, but if not, then on "tea" you can leave 5-10% of the order value. Tipping is customary to leave both hotel employees and taxi drivers.
It is convenient to make calls to your home country from public telephones - you need a card, which can be obtained at post offices, newsstands and in some stores.
Memorable gifts from a holiday in Jurmala can be amber and silver jewelry, clay and glass products, knitted and woven products, clothes in the national style.
Photos of rest in Jurmala