Where to eat in Kaunas?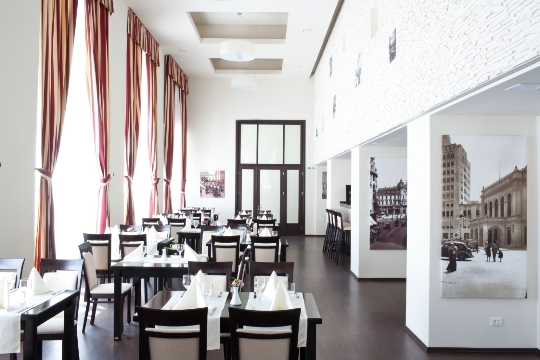 "Where to eat in Kaunas?" - this question will invariably arise for those who are going to rest in this Lithuanian city. You can satisfy your hunger and have a good time in national Lithuanian and Japanese, French, Italian and other restaurants. There will be no difficulties with choosing a catering establishment in Kaunas - you can familiarize yourself with the menu and prices without going inside the premises (this information is reflected on the stands located on the street).
Where to eat in Kaunas inexpensively?
There are many democratic cafes in the city where you can taste the famous Lithuanian zeppelins, fried potato sausages "bucket" (they are served with fried onions and cracklings). In search of an inexpensive and cozy place, you should visit the Pizza Jazz restaurant - here you will be offered to enjoy light snacks, fresh salads, desserts at reasonable prices. In addition, themed evenings with jazz music are often held here..
Where to eat in Kaunas is delicious?

Miestro Sodas: In this restaurant you can see how the food is prepared and listen to the music emanating from the keys of a scarlet grand piano. Here you will be offered to enjoy various salads, for example, with foie gras, goat cheese and nuts, first courses (pay attention to berry soup), meat and fish dishes (they are steamed, grilled, stewed, baked and fried on a spit) , kind), various cakes and pastries.
Sfinksas: This restaurant specializes in European cuisine. On the menu you will find a wide selection of salads, specialty steaks, vegetarian hot and cold appetizers. And on weekdays, you can come to the institution for an inexpensive and delicious business lunch..
Medziotoju Uzeiga: This restaurant has a medieval interior (hunting trophies are scattered everywhere). Here you can enjoy Lithuanian and European dishes - wild boar stew in beer sauce, roe deer steak, venison carpaccio, hot chocolate pie.
Avilys: This restaurant offers national cuisine. In addition, beer with a honey aroma is produced here, so guests can taste such unusual dishes as beer soup, beer mousse, beer ice cream. If you decide to drink beer, then you will be served here traditional snacks in the form of smoked ribs, cheese donuts and chicken wings..
Blue Orange: This small bar will appeal to fans of beer, DJ sets and live performances in the spirit of indie rock.

Gastronomic excursions in Kaunas
As part of a gastronomic tour in Kaunas, you will see how aromatic bread is baked, learn how beer and cheese are made, fish and other national dishes are prepared..
Kaunas is famous for its modern entertainment and shopping centers, sports facilities, churches, cathedrals and museums, as well as delicious Lithuanian food.
Photos