Where to eat in Vilnius?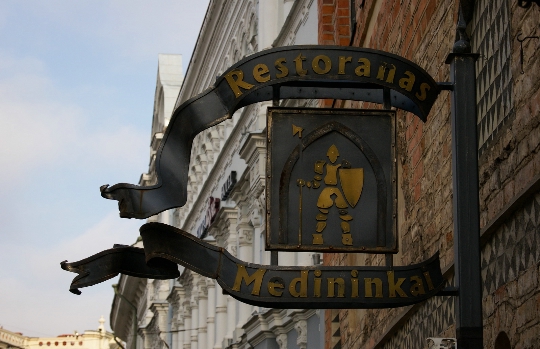 While vacationing in the capital of Lithuania, you will surely think about where to eat in Vilnius? You can satisfy your hunger here in French restaurants, and in Italian pizzerias, and in establishments serving traditional Lithuanian cuisine..
In authentic places you can try zeppelins (potato zrazy with mushroom, meat and other fillings), potato casserole, red cold borscht, sorcerers, beer soup.
Where to eat in Vilnius inexpensively?
You can eat inexpensively in the city in numerous cafes, grill bars, taverns. Budget dining places are chain establishments such as Cili Kaimas and Cili Pica. You can have a delicious cake or muffin with tea or coffee at Vero Caf or Caif Cafe.
Where to eat in Vilnius is delicious?
Gabi: this restaurant will amaze your imagination with the interior decoration, decorated with wood, frescoed ceilings, as well as delicious dishes of Lithuanian and European cuisines. In addition to zeppelin, potato pancakes with red caviar, Lithuanian sausages, here you can taste Caucasian dishes, as well as order from the vegetarian menu.
Avilis: This restaurant specializes in Lithuanian cuisine and has its own brewery. The restaurant's menu contains a variety of meat delicacies, first courses and game dishes..
Forto Dvaras: In this restaurant you can taste Lithuanian potato, fish and meat dishes, different types of beer and corresponding snacks. Here you should enjoy mushroom soup in bread and pork ribs with pickles.
Lakstingala: This restaurant's menu features European dishes, many of which are charcoal-grilled with special recipes imported from the UK. The restaurant offers many dishes of Italian cuisine, and a special menu has been developed for children..
Vandens Malunas: Located on the banks of the Neris River, this restaurant is the perfect place for those looking to escape the hustle and bustle of the city. Here you should definitely try tomatoes stuffed with tuna, salad with apples and herring, salmon in green oil and beef in white wine sauce.
Gastronomic excursions in Vilnius
On a gastronomic tour of Vilnius, an accompanying guide will take you through restaurants and cafes where the local population likes to relax. As part of such a tour, you will visit a beer bar, where you will be able to taste Lithuanian cheeses and beer (you will immediately be offered to enjoy cheese sweets and ice cream).
The prices in most food establishments in Vilnius are very reasonable, but it is worth considering that lunch or dinner in restaurants located on the central historical streets or in old famous buildings will cost more than in those located around the corner..
Photos