Holidays in Lithuania in June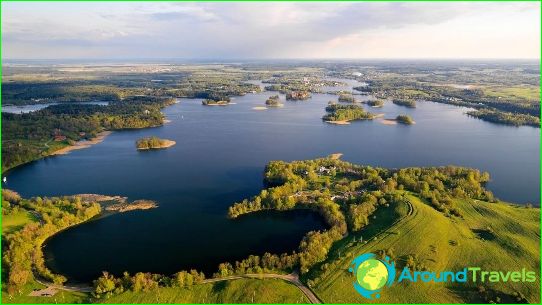 Lithuania, which occupies a very small area on the Baltic coast, meanwhile, is one of the main tourist areas for Russian citizens. Attracted by proximity, accessibility of transport, the similarity of climatic conditions, which is very important when choosing a holiday for older people or married couples with children.
In addition, the ethnographic wealth of the five Lithuanian regions provides a richness of excursion routes. Acquaintance with the architectural landmarks of cities and rural, farmstead crafts will leave the best impressions of the rest.
Weather in Lithuania in June
Summer comes to Lithuania both according to the calendar and in reality. The thermometer rises upward, the night temperature reaches + 11 ° C, during the day it is 10 ° C warmer. Klaipeda, as well as other cities and towns located on the amber coast of the Baltic Sea, invite you to the opening of the beach season. Sea water temperature can reach + 18 ° C.
Unfortunately, in the famous Palanga, the swimming season depends on warm or cold currents. Already in June, the temperature of the sea water can be comparable to fresh milk, that is, pleasant for swimming. Conversely, in the hottest time, the cold sea can scare off a tourist. This is the highlight of your holiday in Lithuania - weather surprises will not calm you down and will keep you in good shape..
Capital of Lithuania Minor
One of the ethnographic regions of this country was named Lithuania Minor, the unofficial capital of which is Klaipeda. June vacation in nearby Palanga can be perfectly combined with excursions in Klaipeda, where there are many beautiful monuments of local history.
Basic information about the history of the region can be found in the Museum of Lithuania Minor, and the branch that reveals the secrets of blacksmithing will also leave its impressions. A special excursion can be devoted to the wooden architecture of Klaipeda. Many buildings have survived in the city, decorated with carved platbands, wooden designs resembling lace.
Jazz festival in Klaipeda
If a tourist who comes on vacation in Lithuania in June does not have enough excursions, beach activities and the opening of the swimming season, his soul asks for something else, he should buy a ticket to Klaipeda. Musical meetings will begin here in the first half of June. They are organized within the framework of the International Jazz Festival, which takes place in the famous Klaipeda Castle..
Thousands of music lovers from all over Lithuania and foreign countries flock here to satisfy their musical hunger with jazz improvisations, blues and swing rhythms. Music goes far beyond the territory of the fort, inviting citizens and guests to join the celebration.
Vacation photos in Lithuania