Holidays in the Maldives in May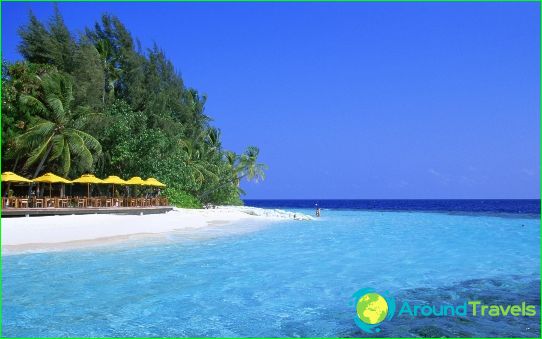 At the mention of the Maldives, people immediately imagine paradise pictures in their minds: snow-white endless beaches, transparent turquoise ocean waters, bliss and complete relaxation after the labors of the righteous. However, this is not always the case here, tourists who have chosen to rest in the Maldives in May can see other pictures..
Weather in Maldives in May
The tropical climate of the Maldives creates excellent conditions for relaxation. Relative humidity is almost imperceptible, as are temperature changes. All year round, the thermometer strolls between + 28 ° C and + 30 ° C, but the sea breezes make this heat quite bearable.
In May, the southwestern monsoons are already in full swing on the islands, and therefore even the most experienced forecasters do not undertake to predict the weather. Heavy showers can spoil the mood of a tourist, however, only for a short time. Since they pass quickly, and high temperatures dry up the satin sand at the moment, in order to return comfortable conditions to vacationers again.
Beach vacation
The sun, the beach and the ocean are what thousands of tourists from all over the world make such a long journey to the Maldives for. Nobody can count the exact number of islands, the approximate number is around 2000. For recreation, you can choose a lot of cozy and quiet places.
This is the peculiarity of the Maldives - there are no noisy discos, crazy dances and wild songs. Tourists arriving on the islands listen only to the sound of the ocean waves and the singing of tropical birds. Visitors to the Maldives in May get a load of whispers of rains, cheerful songs of a shower. The loudest thing in May is the ocean storm symphony.
Choosing a hotel in the Maldives
Since May is in the low season, there will be no problems with the hotel, there are enough places. The main thing is not to get lost in the variety of options and choose according to your desires and local weather conditions.
In hotels, the service is always at the highest level, most of the hotels belong to the 4 * - 5 * category. Fewer stars on the facade indicate the modesty of the services provided, respectively, the price is also average. Such places of rest are best suited for active tourists who come to dive and spend very little time at the hotel..
Small islands with one hotel or villa are chosen by couples and newlyweds. A great start to life together is a guarantee of future happiness. There is another suggestion - water bungalows standing right on the water. Tourists arriving in the Maldives in May should avoid these hotels. There is a possibility that you will have to spend the entire vacation locked in the house due to frequent rains and storms..
Maldives - promo video

Vacation photos in the Maldives